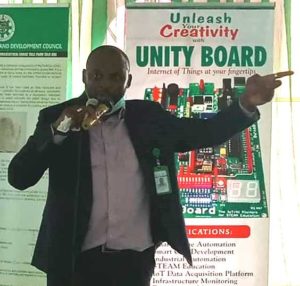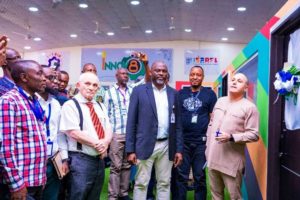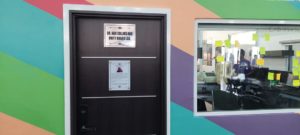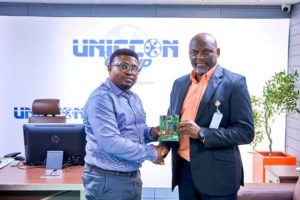 Dr Agu Collins Agu comes readily as a technocrat, that individual with technical training and occupation driven by the belief that many important societal problems are solvable with the applied use of technology and related applications.
Agu, a government functionary, is essentially a researcher and a tech native committed to building young people into techies – a passion he has fully expressed in the various hubs he has inspired into existence and the people he has mentored to keep pushing the frontier of tech research.
Agu is helping to champion the creed of a community-based enterprise in Abuja: the Technology Development for Poverty Alleviation Initiative (TD4PAI) innovation hub. TD4PAI is an innovation charity and rural community hub helping to bridge the diversity gap in digital skills in several ways particularly amongst the most vulnerable people with the least access to opportunities.
Touted as the first hardware hub in Northern Nigeria to promote upstream ICT, TD4PAI has helped to bring costly, premium digital skills to many young people and at no cost to them. The training with exposure is bundled as an expression of the charity and passion of Agu and his team who freely give their time, expertise and funds to provide many young Nigerians "a future with opportunities."
As part of its outreach and inclusivity agenda, the "TD4PAI innovation hub actively reaches out to underrepresented communities and encourage their participation in digital skills development while collaborating with local schools, communities to identify and support individuals who may not have had access to digital education opportunities."
In recognition of this, the Kuje Area Council, Abuja, FCT named a major street where the hub is situated in Kuje after Agu – a befitting endorsement of service to humanity.
ADVERTISEMENT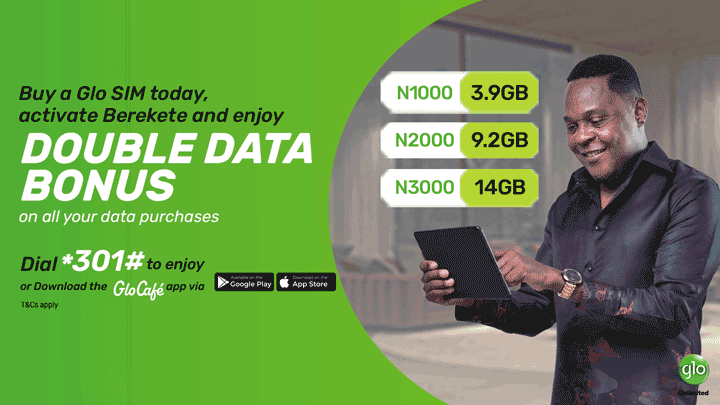 Agu similarly has an entire research space named after him: The Dr Agu Collins Agu Unity Board Lab inside Innov8 Hub, under the management of the State of Israel. He is a Technical Mentor at Innov8 Hub, where he is helping to facilitate capacity and prototype development of the Unity Board for the startups at the hub,
Agu holds a top level Doctorate Degree in Engineering Sciences from National Technical University at Kharkov City, Ukraine where his PhD dissertation yielded an invention – a hydrocarbon based solid substance for combined processing of materials using electro-conductive abrasive tools under (Ukraine Patent № 58078, 25th March 2011).
Since 2011, through various work experiences with governments and private concerns, Agu has become an iconic proponent of "OpenSource technology, indigenization and adaptation of technology. He has many years hands‐on real industry experience in upstream ICT products design and development, specializing in development of IoT Systems, Advanced Embedded System Design and Programming, PCB Design and Manufacture, SCADA & HMI Systems, Design & Integration of Renewable Energy Systems, R&D and Innovation Management."
He is currently the Director of Research and Development (R&D) Department of the National Information Technology Development Agency (NITDA). Some of his research work involved minimum quantity lubrication (MQL) technology for application in heavy industries for manufacture of composite materials.
Notably, Agu has become a foremost apostle of the Unity Board Pro, an Artificial Intelligence of Things (AIoT) Development Kit and a Unified IoT Platform.
Within this realm, he has championed extensive research works in IoT based Solar powered Remote Tank Monitoring System for LPG, Diesel, Silos, and Oil among others and applications of IoT in fields as diverse as urban waste management, smart city applications for transportation and a plethora of other fields.
Inside, TD4PAI, the focus is on creating an army of hardware engineers able to innovatively address societal challenges by leveraging emerging technologies.
Agu is listed among Nigeria's 100 Leading Telecom & ICT Personalities, He has a Merit Award for Excellence in Technology Development and he is in Nigerian Diaspora Global Hall of Fame – NIDOE
He tells IT Edge News his aspiration is to retire from government service to build more young people into techies that will advance the development of the African continent.
The engineer and researcher has long found his calling in "engineering the lives of young and talented people to find meaning in technology for development and; most importantly, for the eradication of poverty."