By Tracy Yekaghe
 "Government wants to create jobs in functional ways; support innovators, entrepreneurs with ready access to funds; leverage global networks; remodel agencies that have become moribund like NIPOST; privatise or commercialise those that are both administrative and economic burden to government like NIGCOMSAT. The strategic plan document will provide that roadmap and make that statement."
Nigeria's Ministry of Communications, Innovation, and Digital Economy is set to unveil its strategic plan on Monday, October 2, 2023, Minister of Communications, Innovation, and Digital Economy. Dr Bosun Tijani, has announced in a way that has ignited hyper-expectations among stakeholders.
In the lead-up, the ministry has undergone weeks of thorough briefings with its various agencies and departments, resulting in a refined blueprint that holds the promise of transforming the nation's digital landscape, Tijani tweeted in his official X handle.
His words: "Looking forward to sharing our strategic plan for the @FMoCDENigeria October 2nd. My team and I have spent the last few weeks getting briefed by the agencies and departments in our ministry and we have taken a lot on board in our original blueprint. I am also thankful to all of you who have shared your thoughts with me on some of my previous engagements here and offline as well. A lot of your ideas have enriched our thinking."
What's going to be new?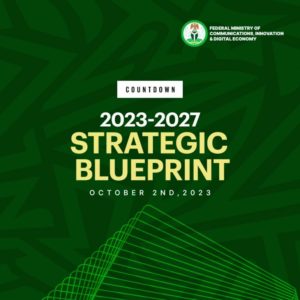 Tijani assumed office weeks back to lead a ministry that was re-christened with 'Innovation' added to its official title signifying government's intent to implement new ideas, create, develop, deliver, and scale new value propositions across different sectors and fields "all geared at expanding the frontiers for employment and entrepreneurships; drive new processes, and make life more meaningful to Nigerians," a senior aide of the minister mentioned to IT Edge News.
"Government wants to create jobs in functional ways; support innovators, entrepreneurs with ready access to funds; leverage global networks; remodel agencies that have become moribund like NIPOST; privatise or commercialise those that are both administrative and economic burden to government like NIGCOMSAT. The strategic plan document will provide that roadmap and make that statement," he added.
India offers a peep in into roadmap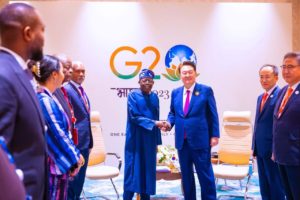 Already, the outcomes of President Bola Tinubu's meetings in India that had Tijani in the Nigerian government's delegation offer a peep in into the ministry's roadmap for capacity development, leveraging of technology to improve education and collaborations across international borders.
Ahead of the recent G-20 Summit, Nigeria and India signed a Memorandum of Understanding (MoU) in New Delhi to promote educational technology (EdTech) sector and strengthen digital transformation notably in the public sector.
"Nigeria and India have a shared passion for a better tomorrow, driven by the power of digital transformation. As part of these collaborative efforts between our countries, I signed a Memorandum of Understanding (MoU) on behalf of Nigeria with my counterpart at India's Ministry of Electronics and Information Technology, to share best-in-class digital solutions for the benefit of the citizens of both countries," Tijani stated to announce the deal.
Roadmap will fortify the Nigeria Startup Act
"The roadmap will explore how to bring the best of benefits out of the Nigeria Startup Act to those it is intended for," said another person conversant with the document being finalised.
According to him, the blueprint will practicalise the aspiration for a Digital Free Zone set aside for a community of tech innovators, allowing startups or tech-focused enterprises to operate with ready access to support infrastructures such as stable power and high speed internet; and able to enjoy zero tax or duties among other incentives to build to literally foster a Silicon Nigeria.
Tijani's expertise in venture capital and global networks further fuels the trajectory towards cultivating globally competitive companies. This, in turn, is expected to stimulate the growth of digital employment opportunities, catalysing economic expansion.
Leveraging his substantial track record of nurturing Nigeria's startup ecosystem through significant contributions at CC-Hub, Tijani has established himself as a central figure in incubating and mentoring homegrown startups spanning fintech, healthtech, edtech, and agritech sectors. With this extensive experience, his transition into a governmental leadership role enhances the potential for increased innovation and investment.
Social Media Buzz – Nigerians wait in excitement
Anticipation is high among Nigerians for the release of the strategic plan. Social media platforms are buzzing with discussions about its potential impact.
Prof. Bukola Onashoga @bookyy2k tweeted: "The newly inaugurated National Executive Council of Nigeria Computer Society is set to harmonize our strategies with the mission for national economic development. Looking forward to our involvement. Best wishes to you Honourable Minister
Sunny Man @sunnyolalere wants NIPOST to be reworked. "Kindly work towards quick privatization and decentralization of NIPOST. In the meantime,  let it be managed by preferred logistics companies on regional basis while an agency regulates their operations. More jobs will be created."
LinkedIn Engagement
LinkedIn, a platform for professional discussions, has seen inquiries and comments from users. Raphael Ajima inquired about accessing the plan, acknowledging the ministry's dedication:
"How do we get a copy of the blueprint? Kudos to you and your team I can imagine the amount of dedicated work going into such important project for the nation…"
Samuel Esogbue expressed curiosity about how AI will be integrated:
"Very very good Sir. 'Bosun Tijani l'm looking forward to seeing this. Most especially how Al will help drive your process."
Ola Lawrence, a tech enthusiast, expressed a desire to contribute to Nigeria's development:
"I'm thrilled and in suspense to hear about your strategic plan! As someone with expertise in software, engineering and a strong desire to contribute to Nigeria's betterment, I would love to see if there's an inclusion opportunity to participate and contribute as a tech enthusiast. Dr. "Bosun Tijani"