The National Information Technology Development Agency (NITDA) and the Uniccon Group, the startup that built 'Omeife' – Africa's first humanoid robot, are exploring partnership to promote ICT propagation and the achievement of 95% digital literacy nationwide by 2030.
Director General, NITDA, Kashifu Inuwa Abdullahi, revealed this during a recent facility tour of the Uniccon Group in Abuja. He was accompanied by the Coordinator of the National Center for Artificial Intelligence and Robotics (NCAIR), a subsidiary of NITDA, Dr Yau Isa Garba, and other senior officials of NITDA including NITDA's Director Research and Development, Dr. Agu Collins Agu; and Senior Assistant, Strategy and Innovation to NITDA's Director General, Iklima Salihu.
"We are willing to sign an MOU with Uniccon to infuse Omeife into our already established learning models if it has the ability to communicate in four identified Nigerian languages, namely, Igbo, Hausa, Yoruba and Pidgin English, towards achieving 95% digital literacy in Nigeria by year 2030. This will, in turn, enable the citizens employ digital devices for economic purposes,'' the NITDA boss said during the facility tour led by Chairman Uniccon Group; Amb. Chuks Ekwueme. Chuks and his team including Director of Finance, John Angaye;  Group General Manager, Chris Ebosie; General Manager, Kehinde Ake; and Manager of Project Monitoring, Tolu Bankole.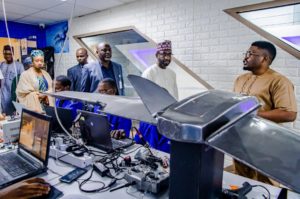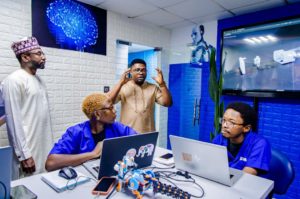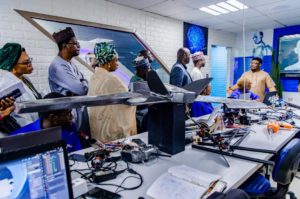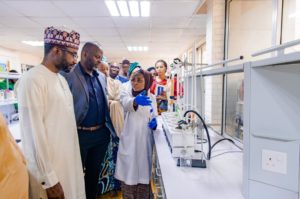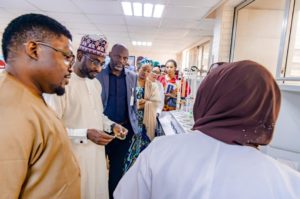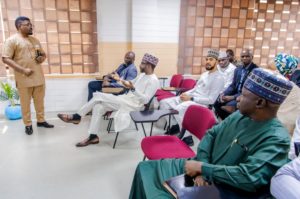 The enthralled NITDA team toured the laboratory facility including the AI & Robotics, Chemistry, and Molecular Biology laboratories.
According to the NITDA boss the visit is to fulfill part of the promises made by the government during the unveiling of 'Omeife' last December by the Vice President, Prof. Yemi Osinbajo, and the Minister of Communications and Digital Economy, Prof. Isa Ali Ibrahim Pantami, who had urged the agency to work closely with the Uniccon Group in commercialising 'Omeife'. Ekwueme enumerated on the different offerings of Uniccon including its research efforts in STEM, biogas, and sustainable energy as well as 'Omeife' which he described as a convergence of all of the Group's efforts across a broad spectrum of technologies including AI, cloud, blockchain and drones amongst others.
He said Uniccon's services whether in software or hardware developments have all converged across a broad spectrum of solutions in blockchain technology, cyber security, cloud computing for the creation of the 'Omeife' humanoid.
Ekwueme stressed Omeife's ability to aid knowledge acquisition, and language learning "leveraging her proficiency in English, Yoruba, Hausa, Igbo, and Nigerian Pidgin English languages."
While commending the group, Abdullahi said the services and efforts of the Uniccon Group fits into NITDA's vision of making 95% of Nigerians digitally literate by 2030 and expressed the desire for a working relationship that will integrate "Omeife into the agency's Learning Management System (LMS) to facilitate a robust learning experience."
Ekwueme said both the visit and the partnership will help in the "advancement of Nigeria's digital culture," even as he lauded the government notably the Ministry of Communications and Digital Economy and NITDA as well as other agencies "for their support of indigenous innovations and commitment to supporting the efforts of the Uniccon Group to improve the African economy through innovative technologies."