Momentum is gathering as Abuja plays host to launch of Africa's first humanoid robot "Omeife" this week.
The official unveiling holds Friday, December 2 at the Transcorp Hilton Hotel under the theme: 'The Future of Artificial Intelligence in African Tech Ecosystem' with stakeholders expected from government, the diplomatic corps, academic and research institutions, business and investment communities as well as the technology & innovation sector.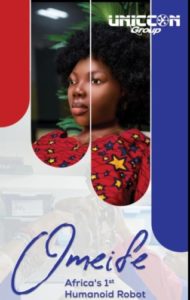 Omeife is a 6-foot-tall female, African humanoid that provides language as a service for businesses needing to integrate native African audiences. She is also a multipurpose and assistance robot. She speaks African languages and is programmed to have a deep understanding of African culture and behavioural patterns.
Here are some more things Omeife is able to do:
Movement
1. Terrain intelligence: Knowing the level of ground and stability of itself on the floor, this will help it navigate on non-flat surfaces and maintain good balance.
2. Position awareness: GPS for location and State-management for knowing whether the system is standing, walking, talking e.t.c.
3. Advanced Gestures: Expression while talking, hand illustrations, smile and other bodily  gestures.
4. Grip: Ability to size, understand shape and how to hold things with hand.
Conversation
1. Realtime understanding: Active listening and ability to focus on a specific
conversation thread as its happening.
2. Multilingual: Ability to switch languages and interact with the specific gestures.
3. Native Accent: Pitch and Vocabulary detailed pronunciations of words, sentences and even phrases.
Vision
1. Face detection: Identifies and atgs humans through face and facial expressions.
2. Subject focus: Paying attention to a specific item when required.
3. Object detection: Identifies objects and knows their characteristics.
4. Distance analysis: Calculates positions and distance of objects it sees.
Social Interactions
1. Discussion awareness and focus: Pays attention to a specific person to keep the conversation alive.
2. Politeness: Careful and aware of words, phrases, sentences and expressions
that are not polite in African cultures.
3. Safe for kids: Smooth interaction and not reactive.
4. Knowledgeable in various fields and always teachable: Learning pipeline to
always improve and understand new things from conversations.
5. Retention: Ability to recall, understand old concepts better with new information.
Since its global launch at GITEX, Dubai last month, Omeife has attracted extensive interests in national and international media.
The African launch in Abuja will set the stage for mass production of the humanoid robot for a continent-wide market push, says CEO of Uniccon Group, Chuks Ekwueme.  The  Uniccon Group owns the Omeife project.
Watch Omeife Video Below