Technology and innovation have remained the backbone of many societal developments over the past year, as many believe that technology is the new oil well. However, many societies still lack or are low on their tech adoption and inclination.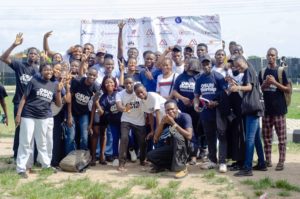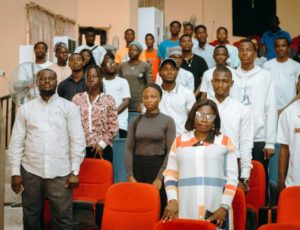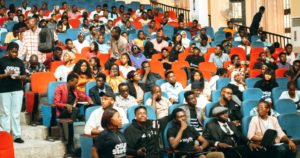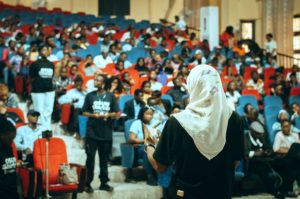 In order to bridge this, Osun Startup Hub, an innovation drive body, organized the 'Osun Startup Conference', a two-day event to exhibit innovative businesses, cutting-edge technology, intriguing real estate projects, and important professional development possibilities.
It was held on May 24 and 25, 2023, at Osun State University in Osogbo, Nigeria, with the theme "Pathway To Discovery". The event was a huge success and surpassed all expectations, with a fantastic turnout of about 1000 attendees and several enthusiastic entrepreneurs.
The Nigerian ecosystem has great potential for exploration. The event was packed with valuable opportunities to learn about mentoring, networking, investors, finance, pitching, and four informative panels.
Explore Nigeria's rich culture, where time is elastic and activities start when they start. The conference was well attended by industry experts, IT enthusiasts, students, and local visitors who came to explore tech startups.
The main stage was deliberately placed to facilitate participation. Wema, Flincap, Famasi, and SwiftPay sponsored interesting demonstrations.
Read also: 5 African Technology Conferences to attend in 2023
The commencement of a new dawn
The Coordinating Director Ministry of Science and Innovation gave a keynote speech on behalf of the governor, saying, "he has been motivated by the state of Osun, the state that is creating the conditions for global competitiveness through startup technology." This is Nigeria's first governor to sponsor a similar measure in his state assembly.
He also revealed the Osun State Innovation Policy and the broadband line charge. This was supposed to make Osun the most technologically advanced economy.
Charmaine Hayden delivered her welcome speech in the UK through a livestream. She manages Goodsoil VC, an Africa-focused fund that invests in early-stage sustainable tech and tech-enabled firms with excellent leaders who are passionate about building high-performing solutions that improve the planet. She discussed customers, corporations, and the greatest networking strategy for Nigerian youth.
On his path, Ademola T. Adewuyi, Product Innovation and Startup Venture Programmes Lead at Alat by Wema, emphasizes how to "innovate into the future" with Jollof Rice's strategy in a keynote speech. Innovation means improving ideas, he said. "How do you enhance concepts? I've learned that we have many solutions seeking problems rather than current-issue remedies."
Discussing Jollof Rice's strategy, he explained that telecoms arrived in Nigeria in 2001. Six months later, Coca-Cola lost market share. It was intriguing that people could recharge their phones instead of spending money to buy Coca-Cola. "If the average person had 5,000 naira each month, they would rather use 3000 or 4000 of that to get a reload card and get online than start buying Coca-Cola. So they considered sharing the wallet by adopting the canta or bottle cover prize-winning idea.
Jollof Rice's popularity makes it possible to approach customers' wallets. Your startup must pass the Jollof rice test to prosper in Africa.
The Nigeria Startup Act and the Osun State Up Bill: Effects on the Osun Startup Ecosystem
Edidiong Sebastian Udoh moderated the Osun Startup Programme. She leads Women in Innovation and Technology, Osun State (WITO), empowering women to solve challenges and succeed.
On the first day of the Osun Startup Conference, other panellists included:
Desmond Orisewezie, Managing Counsel Otitis & Partners Legal
Oyiwodu Rebecca, Partner, LTP Solicitors,
Toyin Bamidele, Engagement Lead, State Adoption Nigeria Startup Act Secretariat
The panellists revealed the importance of the Startup Act, stating that the information technology laws safeguard privacy, IP, e-commerce, government monitoring, and cybercrime. By encouraging responsible use, IT law keeps IT products and services safe, secure, and accessible.
Furthermore, from 2010 to 2018, 61% of Nigerian companies failed to owe to aggressive government policies, regulatory bottlenecks, over-saturation in some areas, skill shortages, high company costs, funding challenges, etc. It solves them.

Building the Next Unicorn: The Missing Gap in Osun State and Go-To Metrics for Osun Founders
This session's objective is to discuss ways to improve Osun State and generate actionable ideas. The objective was to talk about the "missing gap" in Osun State and the possible way forward.
The panellists include the CEO of Africa Proptech Foundry, Kunle Ademola Sadipe; Dr. Yinka Opeke, the CEO of Smart Gas; Yemi Owolade, the founder of the operator company; and Clinton Oyelami, the CEO of Swyftpay.
Osun Startup Conference investment pitching session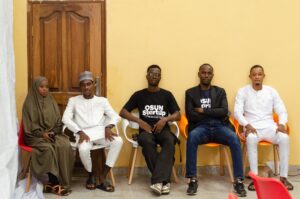 This programme selects, highlights, connects, awards, and coaches scalable Nigerian entrepreneurs with the ability to transform Africa's ecosystem. To support the greatest organizations using technology and creative ideas to solve issues and build a better future in the following areas: Fintech, Cybersecurity, EdTech, Logistics etc.
Present at the pitching event are SoftEdu, an EduTech solution for schools; Moses Transport Limited, a ride-hailing service; Properly, a mobility app; and Metoura, a tourism startup.
They all introduced new innovative ideas, and the first runner-up received 50000 NGN with free mentorship, while the others received only mentorship with other investment opportunities from the investors.
SoftEdu won the competition owing to its educational drive and scalable solution.
The Rebirth of a Technological Driven Osun: Opportunities for the Youth and the Challenges Ahead
This session discussed young people's possibilities and problems, moderated by Oyedokun Olumide Oyedeji.
The panellists are David Adeleke, CEO of Zeeh Africa; Olabintan Adebowale, CEO of WegohostU; Oluwakayode Fafiyebi, Co-founder/CTO Innox Technologies; Esther Chukwuma, Product Manager Hamzry; Ademola T. Adewuyi, Product Innovation and Startup Venture Programmes Lead at Alat by Wema; Oyewo Tobi Emmanuel, SA to the Governor of Osun State on ICT; and Sola Ishola, Media Assistant to the Governor of Osun State on ICT.
Panel discussion: Real Estate
Mr. David Adeleke (CEO of Zeeh Africa), Oyewo Tobi (S.A. ICT to Osun State Governor), Dr. Odegade Abudulkareem (CEO of Akmodel Properties), Prince Adeyemi Adefajo (CEO of Slankama Works), and others were available for this session, highlighting the necessity of real estate in the country and how one can venture into the ecosystem.
Read also: Senegal hosts AfricArena tech summit
Words from Theophilus Abiodun, the conference team leader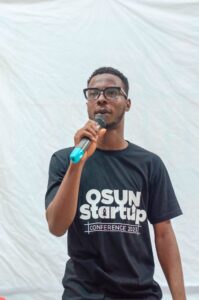 In an interview with Techpression, Theophilus Abiodun Tokode, the team lead for the Osun State Startup Hub, revealed that the drive for this movement is youth development and state innovation.
They decided to gather all the youth and make official announcements for the startup conference. This is how to network and produce products, which is why they started. He explained, "Osogbo's startup rate is low, and only a few startups operate. Because of the large market, we need to lead the startup resolution in Osun State."
Following the success of the first conference, he added that they wouldn't stop putting effort into it. "Even when we're older, those coming behind procreate." He also said that his role as a team leader is not dominant and that another person will take over later based on the board's decision.
On team formation and event sponsorships, he said most of the members had worked together for the past few years as a team of friends who usually share the same ideology. They also got some through recommendations and volunteers. "We issued the call for volunteers. I expected 6–10, but 90 volunteers responded".
As regards sponsorships, he said they had a shortfall, "but we appreciate everyone that came along with us because traditionally this is an event the government should always look out for and champion, but we got little to no support from them". Therefore, it was run with the support they got from partnering firms and individuals.
For aspiring organizers, he encourages them to "do your own thing. You know that even if the government leader is attempting to put things in place, there will always be inner power plays. Network with outside governments to avoid disappointment at events."