Fintrak Software Limited has been listed among the Top 50 Nigeria Digital Economy Enablers 2023 for their strides in providing homegrown software and banking solutions to many financial houses in Nigeria.
The indigenous financial software (Fintech) organization received the award in Lagos just as it is expanding its portfolio of electronic channel solutions to Nigerian financial sector moving rapidly into a full-fledged digital economy.
Speaking to the media at the event, Group Managing Director of Fintrak Software, Bimbo Abioye, said "we are very grateful for this recognition and what it stands in our organisation. We will ensure that we keep providing world-class banking solutions to financial houses and organisations in Nigeria and beyond. This is a source of encouragement and it goes to show that people are appreciating the little things we are doing and this energizes us to do much more."
On the electronic channel solution, Abioye added that "our vision is to be a top enterprise solution provider. We have provided tremendous support for our clients especially in the private/financial sector. Some of these solutions ranges from core banking system and we are supporting about 14 commercial banks locally and internationally this enables them to achieve efficiency and run profitably.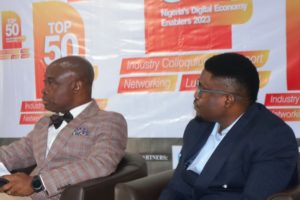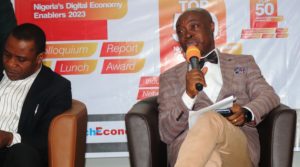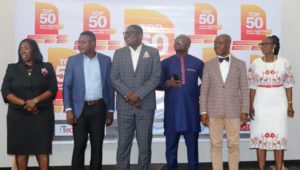 "Some of these solutions ranges from financial planning, budgeting platform, performance management system and platform that helps them run efficiently on the back end such as supporting and reconciling their payment and electronic channels. These solutions help these banks to strengthen customers' confidence, our tools can help in electronic corrections and reducing human errors in banking."
Abioye added: "For us, one of the critical solutions we have in the area of reconciliation is our electronic management solution, this Fintrak solution tackles the service failure in banks. This electronic channels reconciliation and management system helps banks to tidy up transactions that might not be successful. Apart from reconciliation, the system can monitor volume of traffic in these channels, types of channels and location of these transactions."
On his relationship with the Nigeria Data Protection Bureau of Nigeria, Bimbo said that they are looking at collaboration in the public sector. Fintrak Management System is already deployed at the Federal Mortgage Bank to help the publicly owned bank deepen its market penetration.
The FinTrak E-Channel Solution reconciliation module comes with an inbuilt algorithm that decodes complex Electronic Journal Files, carry out data extraction from all available sources and provide a status for any transaction ID in real-time.
The Top 50 ranking started over a decade ago and is now an institutionalised barometer to identify the" industry leaders in general and specific aspects of the IT market."
According to its organisers, led by IT Edge News.Africa published by Knowhow Media, "the 2023 edition is all about the coming together of industry players. The first after COVID 19, it opens a new chapter for a general and specific assessment of the industry that will allow for measurements across verticals for Top 10, Top 20, Top 50 and Top 100."