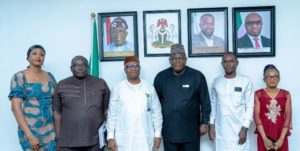 The Committee of Vice Chancellors of Nigerian Universities (CVCNU) is seeking partnership with the Nigeria Data Protection Commission (NDPC) for capacity building for VCs and data officers in universities as part of measures to protect the data of students across Nigerian universities,
Secretary General of CVCNU, Professor Yakubu Ochefu, who called for a capacity building on data protection for senior officers of Nigerian universities, expressed this during a recent visit by CVCNU members to the National Commissioner/CEO of NDPC, Dr. Vincent Olatunji, in Abuja.
Professor Ochefu stressed the need for CVCNU members to be enlightened on data protection.
His words: "The fact that the act is coming at this point in time, these are things that as a nation, we should have done years ago, and if Nigerian Universities is going to do things right, then they have to take their rightful place as far as implementing the Act is concerned. This is a very important agency that we need to engage with, we need to see how we can work together, so that we can help build the capacity of the Universities, to ensure that we are doing the right thing."
He further stated that there are "264 universities with Vice Chancellors who now have a new cap to be chief data protection officers of the universities they lead. The average VC wears four caps in the university. They serve as the Chief Accounting Officer, Executive Officer, Academic Officer, and Security Officer. I told them that they have a new cap which is now the Chief Data Officer of their university, the VCs immediately saw the value of Data Protection from the way forms are designed in the Universities, handling personal information, posting results on the wall and so on."
Ochefu added: "We have come here to engage with you to see how we can work together and organize a capacity workshop for Vice Chancellors and Data Officers that will be employed, so that we have the template in place of what they need to do, to go through the compliance process and have everyone on-board."
The National Commissioner commended the efforts of the CVCNU led by Prof. Ochefu, particularly in requesting for partnership on the Data Protection subject matter. Dr Olatunji said, "As you have proposed, we are happy to work with you immediately."
He explained that the education sector is crucial, especially with the volume of personal data being processed on a regular basis.
According to him, "the education sector is even more peculiar, I remember when I was in the University, at the end of every semester, we go to the notice board to check our result, your name, your date of birth, your matriculation number, everything about you, all your scores and grades are there. Having 2.6m students, a lot of things must have been mismanaged and neglected, it's a very critical sector to us."