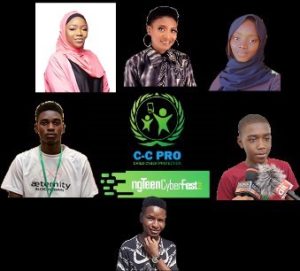 This year's edition of Nigeria Teen Cyber Festival: ngTeenCyberFest 2023 is holding in September with the main theme of 'Promoting Young People & the Power of Innovation in a Digital Economy'. Abuja is hosting the hybrid event of real life, onsite conference and expo as well as virtual interaction simultaneously. 
The ngTeenCyberFest 2023 is organised by C-C Pro [Child Cyber Protection], an organisation promoting healthy interaction of young people and technology.
First hosted in Jos, Plateau state in 2021 with the support of public and private organisations that included Nigerian Communications Satellite Ltd (NIGCOMSAT), National Automotive Design and Development Council (NADDC), Plateau State Information And Communication Technology Development Agency (PICTDA), UNESCO, and the Africa Digital Economy Forum (ADEF) the Nigerian Teen Cyber Festival is a fiesta of conference and startup expo where young Nigerians are enlightened and exposed to knowledge required to be protected while online.
More than 2,500 students from secondary and higher education centres of learning are expected in the gathering of subject-matter experts and stakeholders to further anchor the management of young Nigerians in cyberspace.
During the programme, the young participants are educated on series of issues all centered on protecting young people in the cyberspace. Issues of cybersecurity and privacy will also come to the limelight during this programme, which seeks to also ignite innovations & exchange of ideas among young people; ultimately to foster a healthy online culture.
The ngTeenCyberFest 2023 is a collaborative effort of C-C Pro, nHub, Baobab Think Limited, Instinctwave with the content support of Nestsquare, Qitech, Knowhow Media, and Bionic Concept Limited.
The ngTeenCyberFest 2023 "is building on the success of the last edition to expand the theme focus on how young people can best leverage on digital opportunities and protect themselves online. Young Nigerians that constitute more than 60% of the Internet population will share and learn from a community of experts through a mix of Conference, CyberTalents Expo, Teen Fire Chat on Opportunities and Challenges in cyberspace; and platform for leveraging innovations; and promoting Ideas Xchange for young people," said CEO/Co-Founder CC-Pro, Delmwa Gogwim.