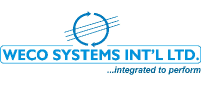 Weco Systems, a Lagos based system Integration Company has announced two awards simultaneously given to them by Cisco. One is "Enterprise Partner of the Year 2014 For Africa" as the best in the enterprise space for Africa and the "Enterprise Partner of the Year 2014 – MEAR" as Best in the enterprise space for Middle East, Africa & Russia Region. The awards were won in the recently concluded Cisco Global Partner Summit held in Las Vegas, United States.
Presenting the awards to Weco Systems' board of directors, the Chief Executive officer of the company, Mr. Obinna Ekwonwa said the awards show that Weco Systems is doing its job rightly, as the company is the only Nigerian and sub-regional (West African) company that won awards this year at the 2014 Edition of the Cisco Global partner summit awards.
"It's a great honour to have received these double awards. It symbolizes a huge encouragement coming at this time for me and my entire team. As a company, we see the awards as a challenge to a higher pedestal and we are committed to more value driven service delivery and partnership for our customers."
Cisco's Partner Global Summit awards are designed to recognize exemplary channel partners who demonstrate best-in-class business practices and serve as a model to the industry. Areas of consideration include innovative practices, its engagement & application successes, problem-solving and sales approaches. Winners are selected by a group of Cisco Worldwide Channels and Regional executives.