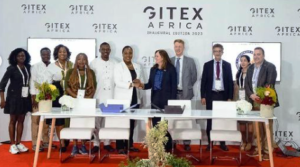 The United States Department of State's Office of Global Partnerships (E/GP) and AfriLabs have signed an MOU at the GITEX Africa event in Marrakech, forging a partnership to address the climate crisis and promote entrepreneurship in Africa.
During her speech, Dorothy McAuliffe, Special Representative from the Office of Global Partnerships, described the collaboration with AfriLabs as a significant step toward building 21st-century U.S.-Africa public-private partnerships.
Through this collaboration, both organisations aim to support the Coalition for Climate Entrepreneurs (CCE) initiative, which focuses on nurturing startups and entrepreneurs driving climate solutions in developing nations.
"We are excited to join forces with the U.S. Department of State in our shared mission to empower entrepreneurs and drive sustainable change," said Anna Ekeledo, Executive Director of AfriLabs."
This partnership will create opportunities for climate-focused startups in our hub community across Africa to access expertise, capital, and global markets."
Under the MOU, the U.S. Department of State and AfriLabs will collaborate on various programs, including the U.S. Climate Ops and Partnership Opportunity Delegations (PODs), to connect climate entrepreneurs with resources and targeted opportunities. Also, the International Visitor Leadership
Program (IVLP) and BridgeUSA will assist promising climate entrepreneurs.
The partnership will focus on four pillars: engagement, expertise, capital, and deployment. By fostering collaboration, providing skills and knowledge, attracting investment, and implementing climate solutions, the partnership aims to make a significant impact.
The MOU is effective immediately and will continue until the completion of the partnership goals, with the option for extension.