By Anthony Nwosu and Oluwatobi Opusunju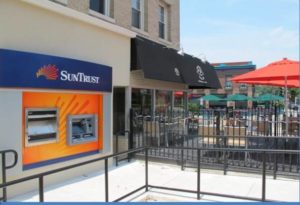 Nigeria's first technology exclusively driven bank, SunTrust Bank Limited, has opened shop aiming to scoop up the country's over 40 million unbanked population and rev up the banking sector in a way that could see old, legacy operators breathing for space.
"Most customers of tomorrow will not be the ones that go to the banking hall, so we need to be able to respond positively to the needs and expectations of the customers of tomorrow, and that is at the heart of our vision and strategy as the bank of tomorrow, today," said Managing Director/CEO of SunTrust, Muhammad Jibrin.
One of SunTrust's major promoters and president of the Dangote Group, Alhaji Aliko Dangote, said technology and branchless banking will be the cornerstone of the new financial operator.
Dangote, Africa's richest man, said because the bank is heavily technology-driven, it will cut huge costs in operations and bring this advantage to bear on its value propositions to its customers. "We are changing how banks work and helping to deepen the support a bank should give its customers," said an elated Dangote at the formal opening of the bank in Lagos, Nigeria's commercial capital.
His words: "SunTrust has recognised that the old model of business expansion via a network of expensive branch premises is obsolete. What you need now is to sit down at home and operate your banking transactions without any branch, which means you save money in terms of time.
"With this new model, SunTrust  customers actually transact their businesses without visiting any branch, and this actually saves quite a lot of money and that means that they might be one of the cheapest in the banking industry today in Nigeria."
SunTrust is themed on branchless banking and runs without tellers or counters, a revolutionary move in a sector where heavy investments in technology by older banks have up the game for banking services.
SunTrust was granted a regional banking license by the Central Bank of Nigeria (CBN) so will be promoting mobile money in the South-South and South-West of Nigeria that should provide new impetus to drive Nigeria's lagging mobile money services.  This is where SunTrust will be deploying technology and manpower, said Dangote.
"SunTrust mobile money programme is truly innovative and will reach out to many people in Nigeria, whose access to a bank account has previously been almost impossible. Millions of Nigerians will be included in the financial system and with attendant benefits to the economy. As you know, there is not more than 15 per cent of the economy in the banking system today. There is a massive market for SunTrust and I am sure they will be able to succeed."