By Oluwatobi Opusunju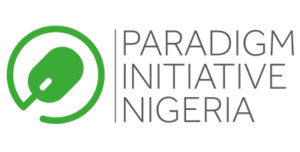 Paradigm Initiative Nigeria (PIN) has asked the National Assembly to speedily pass the Digital Rights and Freedom Bill presently before the legislators to foster the positive use of the online space and also create a robust IT industry in Nigeria.
Programme Manager for PIN, Mr. Adeoye Adegoke, said the bill, which passed the first and second readings recently this year at the House of Representatives level will strengthen the right of citizens in the use of internet without undue monitoring by government security agencies.
Adegoke, while speaking during a recent courtesy visit to the Daily Trust Newspaper, Abuja said, "the bill stipulates the due process that should be followed before access is granted to governmental agencies and others to personal digital data of citizens."
He said the bill will foster an enabling environment for the rapid development of the Nigerian ICT ecosystem by aiding the free participation of citizens in the use of digital space thereby reducing the level of  unemployment in the country and contributing positively to the growth of the national economy.