By Oluwatobi Opusunju and Aanuoluwa Omotosho
The newly appointed Director General of National Information Technology Development Agency (NITDA), Dr. Isa Ali Ibrahim (Pantami) has assumed office today in Abuja even as he assured staff that he would be driven by the rule of law, commitment to achieving NITDA's core objectives and ensuring that staff are well motivated.
Pantami, a cleric and an ICT lecturer before his new appointment, said he is "allergic to corruption and favouristm" subtly affirming industry's speculation that he was sent in by the presidency to clean up the agency whose former Director General Mr. Peter Jack was sacked early this year following accusations of corrupt practices.
In his inaugural address, to staff of the the Agency , he thanked the staff for the warm reception given to him and appreciated the then Acting Director General, Dr. Vincent Olatunji for the kind and gracious introduction he demonstrated last week when he came for familiarization and handover note.
Dr. Pantami observed that he had given the note a cursory and preliminary glance which has availed him of understanding the activities of the Agency. He added that he would keep in touch with the immediate past acting DG for clarification where necessary.
He said: "The handover notes have given me some insights into what is on ground here. In the next few days and weeks, I would like to meet with departmental and unit heads, individually and collectively, for a better appreciation of where the agency is today and what challenges lie ahead of it."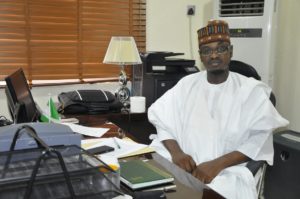 Dr. Pantami who said he was inspired by the famous declaration of President Muhammadu Buhari of "I belong to everybody and I belong to nobody" in his inaugural speech assured  the staff that justice, fair play, transparency and rule of law would be the guidepost of his administration.
He continued, "my esteemed colleagues, the qualities that will make you successful during my tenure here are; integrity, expertise, professionalism and commitments to your duty.
He encouraged staff to be more productive pledging that his administration would introduce special awards for productivity. "In order to encourage productivity and motivate honest, ethical, hardworking members of staff, I will move staff welfare to the front burner, and introduce special awards for best performance, he stated.
Describing the Agency as a very strategic agency, Dr Pantami stated that, NITDA it one of the most knowledge based government institution that requires a harmonious blend of knowledge and creativity adding that its  mandates has place on it a huge responsibility and from which so much is expected.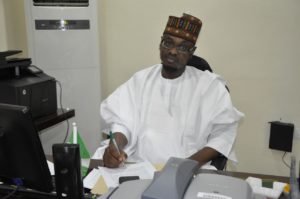 "Clearly, the agency is crucial to the technological aspiration and development of our country in this ruthlessly competitive global world where we can't afford the luxury to lag behind. This is particularly true in these challenging economic times when our country dearly needs ICT in its bid to diversify its economy."
He remarked that he would strive to demonstrate both in word and action that all Nigeria is my constituency adding he would not indulge in corruption and favoritism.
He stated, "I want to categorically state that I am allergic to corrupt practices and favoritism. I will never tolerate these twin vices. So let us join hands and say "No to corrupt practices and favoritism."
The DG reiterated his intention to work with the staff as a team; he sought for advice, prayers and cooperation of all staff in order to realize the mission and vision of the Agency. He advised them to rededicate their energies and creativity toward moving the Agency forward.
While urging the staff to always employ the official channel of communication, he assured them of his open door policy to suggestions, ideas and observation.
 "I am receptive to new ideas and suggestions. Most importantly, however, I want your single-minded commitment to ensure the success of NITDA and by extension the creation of a modern, IT-driven Nigerian society, Dr. Pantami added.
He however promise to continue with the all good projects of the Agency and consolidate on the past achievement of his predecessors noting that
"I am glad to continue with all the good projects of the agency as long as they meet irreducible minimums in due process, and conform to the law that established the agency. Where projects violate due process or impose needless burdens on the core mission of the agency, they will be reviewed in the interest of the nation.