Nigeria remains the ultimate destination for tech investment despite monetary hiccups and even in spite of political tensions in an election year. Africa's largest economy continues to pulsate with offshore inflows into its tech and innovation startup ecosystem.
Nigeria accounts for about 30% of total tech investment on the continent and almost 95% for all of West African countries to underscore Nigeria's increasing importance globally, Director General of the National Information Technology Development Agency (NITDA, Kashifu Inuwa Abdullahi told stakeholders this week in Lagos at a meeting organised by the agency and the Federal Inland Revenue Service (FIRS).
At the meeting were telecommunication companies, financial institutions, and other stakeholders.
The pulsating growth is driven by a mix of factors including large population which means a large market;  a huge number of educated and trainable young people translating into a skill-market to service the global IT economy at lower rates compared to what equally skilled people in advanced market will take.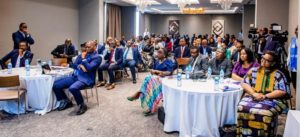 Anchored round driving support for the National Information Technology Development Fund (NITDEF), the engagement focused on how NITDA's achievements adequately reflect taxpayers' money; and why it is crucial to get prompt payment of levies from stakeholders including multinationals like MTN and indigenous big corporate players like Zenith Bank.
The NITDEF levy is charged at the rate of 1% of profit of ICT companies that includes "GSM service providers and all telecom companies, cyber companies and Internet providers, pension managers and pension related companies. banks and other financial institutions among others.
The meeting afforded NITDA a window to share its roadmap of making the country a skill factory for the global economy and expand the portfolio of opportunities in Nigeria's digital economy by leveraging emerging technologies.
Home to about 30,000 startups according to Abdullahi quoting sources that include Statista  and PWC, Nigeria is about 10 times larger than Kenya and South Africa in terms of startup numbers, all of which have made it mandatory for Nigeria to draw up right policy frameworks and statutes including the new Nigeria Startup Act anchored by NITDA.