Hadiza Umar, Head of Corporate Affairs at the National Information Technology Development Agency (NITDA) spoke to the media in Lagos on NITDA's plan for Gitex 2016. She heads the sub-committee on Pavilion Management of the [email protected] LOC.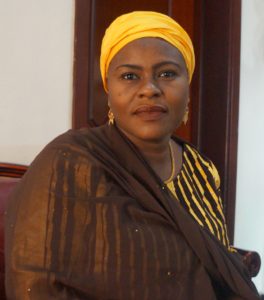 What are the objectives for having a pavilion at Gitex 2016?
The acting Director General of the NITDA, Dr. Vincent Olatunji has stated clearly that Nigeria is not in Gitex 2016 for a jamboree. If you recall, during the inauguration of the Gitex LOC in Abuja, Dr. Olatunji maintained that there are clear objectives for joining over 130 countries to be part of Gitex to showcase our budding ICT industry and provide a platform for foreign prospects to see the boundless opportunities in our non-oil sectors. Last year there were over 150, 000 trade visitors to the Gitex Technology Week, the Nigerian Pavilion attracted well over 4000 visitors and hundreds of enquiries; we had official visitation from public and private sectors from  Bahrain, Serbia, Egypt, Malaysia and the UAE among others.  Of course, there were numerous enquiries and set-up meetings from several offshore companies seeking to see how they do business in Nigeria and how to could explore partnerships with existing companies in Nigeria. Last year, the Nigerian Pavilion boasted of heavy public sector and private sector exhibitors. They include the Nigeria Investment Promotion Council (NIPC), the Nigerian Communication Commission, Nigcomsat, PFS, Sasware, and a number of startups championed by the NITDA.This year, we are consolidating on that. We are using the Pavilion to leverage on government's new economic thrust to aggressively seek investment and build non-oil sectors.
How many companies are you seeking to be part of the pavilion this year?
As you are already aware, we only recently concluded the participation procedures for 2016 and started the media campaign to involve all stakeholders and ensure their participation. We are seeking the partnership of key public sector stakeholders and private companies to ensure we achieve the full objectives of our participation. We are promoting a pavilion that showcases the several opportunities in the ICT sector and the friendly procedures in place to encourage offshore investors. The Nigerian Pavilion will be boldly telling over 150, 000 trade visitors and other country exhibitors that Nigeria is ready for business: Nigeria has a big and rewarding market for ICT ventures; Nigerian Government is committed to supporting foreign and local entrepreneurship; and there are adequate legal defenses to secure the interests of investors.We are already talking to sister agencies and hopefully we should be able to have clear picture of how many agencies will be housed within the pavilion in another month or so. The event is October, about four months away.
How can Nigerian companies participate and which companies are eligible?
All registered ICT companies are eligible. Local companies hoping to explore foreign markets for their solutions or products; or even local companies seeking to explore foreign partnerships/collaborations can leverage effectively on the Nigerian Pavilion at Gitex 2016 to expand their business portfolio.  In addition, the NIPC was on ground last year to educate and enlighten hundreds of prospects seeking to know more about the country and also desiring to know what the entry points to do business in Nigeria are.
Are the start-ups going to be inside the Nigerian Pavilion?
No! This year the start-ups are being promoted inside the Innovation Hub where they will have ready opportunities to compare notes with their peers from other countries and also pitch for business from the global investment community. As you are aware, the NITDA is promoting some talented startups from across the country, it is part of our sub-committee's responsibility to ensure that the selected start-ups gets strategic positioning inside the Gitex Innovation hub which you can consider as an extension of the Nigerian Pavilion for our own start-ups – therefore we want to be sure that our startups are able to leverage on the platform to gain the required attention and investment. There's a sub-committee charged with the technical task of selecting and guiding the startups to Gitex. Our duty is to ensure they get their rightful spots to project themselves and the country effectively.
How many government bureaus and agencies are showing interest in GITEX 2016?
The Nigeria Petroleum Export is showing interest to participate in Gitex. Another organization that is indicating interest in this year's 2016 Gitex is Bank of Agric. These organizations are coming up as exhibitors. On the start-ups, the head of Office of Entrepreneurship and Innovation has started campaigning. They have advised the start-ups to go online and fill the form after which we will invite them to come and pitch. After the pitching, NITDA will select the best; this is to conform to Gitex areas of interest. The Dubai World Trade Centre, the organiser of Gitex, has identified various areas for us to get innovators and these are the areas we will focus on. We believe that this exposure will attract global attention to our startups ecosystems and ultimately lead to both partnerships and investment – all beneficial to the country.
What will be the different thing in that NITDA is coming to Gitex this year?
Well, I wouldn't say that we are coming with any different thing rather we are building on what we have started in Gitex 2015. We are trying to consolidate on our experience and exposure in Gitex 2015. As of last year we took some start-ups to Gitex for global exposure but this year, these start-upswill be inside the Innovation Hub which is outside the Nigerian Pavilion.  Nigeria as a country has her own country spot within the Innovation Hub where our local start-ups can interact with other start-ups from other countries. This is one major difference from 2015.