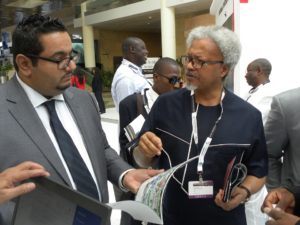 The Director General of the National Information Technology Development Agency, Mr. Peter Jack has said investors who put their money in Nigeria's information and communication technology industry will have a lot to reap, as the sector is still green and have a lot to give investors.
This was disclosed in a paper the DG of the NITDA delivered in Dubai during this year's Gitex Technology Week. He said Nigeria remains the best destination in Africa for investment in ICT. The NITDA is the government agency saddled with the responsibilities of creating a framework for the planning, development, evaluation and regulation of IT activities in Nigeria
Jack said Nigeria is a gateway to investment in Africa, and is strategically positioned in the growth story of the global ICT industry. "Nigeria is an investment destination. There are challenges, but most of them can easily be surmounted. Even the demography of the country is strong for investment; there are about 180 million people, 45 percent of them are young and within the productive age group. It is a fast growing economy, I will invite investors to come in and invest now," he assured.
He revealed the objective of the country's recent local content policy is to increase the integration of ICTs across all sectors in a manner that supports the diversification of the economy while achieving job and wealth creation.
He added that the policy will speed up the building out of communications infrastructure so that all of Nigeria can have access to good quality and affordable, high-speed telecom and internet services.