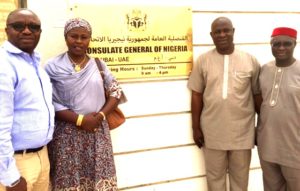 The Nigeria foreign mission in the United Arab Emirates (UAE) through its Consulate in Dubai has expressed support for the country's participation in the GITEX Technology Show scheduled to hold in Dubai next month, October.
Nigeria Consul General, Dubai, UAE, His Excellency Ambassador Dr. Mike Omotosho, affirmed that the foreign mission in the UAE would mobilize business ventures in the UAE representing different countries to pally with Nigeria's technology ventures during the five-day ICT expo touted as the 3rd largest in the world.
Gitex attracted over 145, 000 trade visitors last year from over 115 countries and Nigeria was the Official Country Partner.  Nigeria's participation is being facilitated by the National Information Technology Development Agency (NITDA). The NITDA has already drawn participation from other sister agencies including the Nigerian Communications Commission (NCC), and Nigerian Investment Promotion Commission (NIPC).
Africa's largest economy would be welcoming investors and global partners to explore the country's diverse opportunities inside the Nigerian Pavilion at the Sheikh Rashid Hall where Nigeria is hosting 20 established local companies and startups.
The exhibiting companies include Nigerian Communication Satellite (NIGCOMSAT) Limited, Data Sciences Nigeria Limited, Precise Financial Systems (PFS) Limited, RLG Communications Nigeria Limited, Sidmach Technologies Nigeria Limited, SKtel Nigeria Limited and the Association of Telecommunications Companies of Nigeria (ATCON),  a professional, non-profit, non-political umbrella organisation of all telecommunications companies of Nigeria.
Others are Sasware, ChamsPlc, Agrovative Limited, Blubird Retail Management Limited, Cribpark Systems Limited, Hutbay Limited, Largeminds Enterprise Limited, Medrep, Smart City and Truppr. The 20 exhibitors feature eight startup companies that the NITDA is promoting to the global event to facilitate business pitches for the budding ventures.
"We are here to promote the interest of Nigeria and Nigerians. We know this will boost our country's business interest and also offer an additional window to showcase the strong and positive attribute of Nigeria as a country not only in the ICT sector but other economic areas. Let me assure you that you have our full support," said Dr. Mike Omotosho to the NITDA delegation led by the Director of Finance, Mr. Abdulsalam Raheem Olalere who represented the Director General Mr. Peter Jack. Also in attendance were NITDA's Director of Corporate Strategies, Dr. Olatunji Vincent, and Head of Corporate Communications, Mrs. Hadiza Umar. Others are President of Pinnacle Consult LLC, Mr. Akande Ojo, and Chief Executive Officer of Knowhow Media International (KMI), media consultants to Nigeria at Gitex 2015, Mr. Segun Oruame.
Jack said NITDA's courtesy visit was part of the desire to solicit in-country support in the UAE for Nigeria's presence at GITEX 2015 and to collaborate with the Consular General in promoting local content and Nigeria's companies itching to have a stake in the global ICT industry.