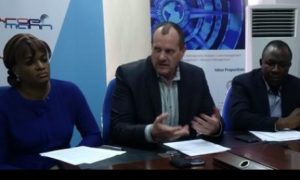 KropmannCommunications  Limited, an indigenous ICT and telecommunication
professional and value-added service provider has  said adopting GIS solutions has the capability of positively turning around utility companies in Nigeria.
Kropmann believes that the value and benefits of adopting GIS Solutions to improve on asset, operational management, as well as the analysis of numerous forms of data can remotely and seamlessly address the challenges of utility companies.
Ryan Swanepoel, a representative from one of Kropmanns Partners, stated this at the just concluded Africa Geospatial forum 2014 held in Lagos. He said GIS solutions and technology has applications across allsectors of the economy. "GIS Solutions are capable of capturing and displaying a wide array of dataand displaying it visually in relationship to the physical location thedata is relevant to," he added.
He revealed that there are some GIS solutions, which can be used to capture geographically dispersed equipment and represent this equipment in a pictorial or graphical manner referenced to the physical location the equipment is tied to.
He added that such GIS Systems are particularly relevant in utility companies involved in power distribution, water networks, the oil and gas and telecommunication sectors, and can definitely enhance operational effectiveness and asset management within these organaizations.
" There was significant interest from a number of states like Lagos in achieving a better
understanding of how they could deploy and utilize GIS systems to improve and enhance government operations in respect to watershed management, land management, rural development, improved locational deployment of government facilities and general assets deployed by the government for the population."