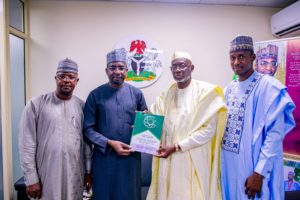 The Jigawa state government has partnered with the National Information Technology Development Agency (NITDA) to empower youths with on-demand digital skills aimed at providing them with an enabling environment for their innovation to thrive in the digital economy.
The Governor of Jigawa State, Umar Namadi Danmodi, who visited the agency recently, stated that exploring the partnership is part of government's efforts to create a more conducive environment for innovation and entrepreneurship, believing that digital skills are essential for economic development and job creation.
The primary focus of the partnership is the integration of Jigawa State's youth empowerment programmes with NITDA's initiative of ongoing One Million Developers training being conducted by the Agency.
The collaboration will create a favorable environment for youth empowerment and the development of digital skills in the state in line with the federal government's vision for a digital economy and the need to bridge the digital divide across all states.
Governor Danmodi emphasized the importance of equipping the youth with the requisite knowledge and skills to take advantage of emerging opportunities, and expressed his commitment to promoting digital literacy and equipping the youth of Jigawa with the necessary skills in the Fourth Industrial Revolution.
He said the state has established Youth Empowerment and Entrepreneurship Agency aims at equipping young individuals with essential digital skills, which will play a key role in bridging the digital divide and fostering economic growth within the state and the nation at large.
Director General of NITDA, Kashifu Inuwa Abdullahi, commended Governor Danmodi for hos proactive approach to youth empowerment and assured him of NITDA's commitment to the partnership.
"As the technology continues to evolve, the Jigawa-NITDA collaboration will serve as a shining example of proactive measures taken by state governments to empower the youth and position communities for success in the digital era," said Abdullahi.
Under the collaboration, NITDA will provide technical assistance, training programmes, and capacity-building that encompass various domains, including software development, data analysis, cybersecurity, digital marketing, and entrepreneurship.