New market player Oxygen Broadband Network, says with its portfolio of offers including zero entry cost and easy to load low-cash vouchers that allows more people to experience broadband access, it is and it is poised to cause a stir in Nigeria's burgeoning data market. Chief Operating Officer Wande Adelemo shared his company's plans with eT Edge News, ANSELM MICHERA and NWAKAEGO ALAJEMBA.
Congratulation on the launch of Oxygen Broadband Network, can you tell us briefly about it?
Oxygen is Nigeria's first MetroWifi network provider, providing Wi-Fi access across Nigeria. Our first hot zone is at the Computer village as you can see, so everyone here can actually access the internet at the speed of 2 megabyte per second. Oxygen's aim is to provide Wi-Fi solution to every market segment from retail chain outlet, the consumer moving on the road to the 3G providers and to WIMAX providers. What do we mean? Our solution is not a competitor but a complimentary solution for all of them, it means that Swift Network will come and say if you have Swift modem at home you can use Oxygen network outside so that you can always be on the move, any of the 3G operators can come and say that I need to provide Wi-Fi for all of my providers, so all they see is their providers name not Oxygen's name. We have a unique landing page that is customizable with white label for anybody, so Oxygen in the market actually enhances broadband experience in Nigerian and we are partners with Main One which is a very great partnership and also with VDT and a great number of other providers. We have a 45meg, DS3 connection to Main One at the moment.
Some other ISPs like Swift, Spectranet have been in the market, what is your competitive edge?
One of the limitations of other solutions is that it's central kind of solution and is modem base or dongle base and that is a lot of impediments for Nigerians that want to get on the internet. Wi-Fi is on every major device now and there are four billion Wi-Fi devices worldwide and that means your laptops, your personal phones no matter how cheap they are they come with Wi-Fi , so that means that a Nigerian can just connect easily.
So you can see during the presentation how easy it is to connect to Oxygen network, the entry cost is zero and the exits cost is nothing to you, unlike when you buy a modem, and you are not satisfy with the solution, you drop it and have tied down your money. But with Oxygen you don't buy anything, again like I said it's not a competition actually, so the many players that are in the market can find a niche for themselves within the Oxygen network. So we are like a broadband Ecosystem for everybody, a Swift user at home can be moving outside and Swift can say all our users on Swift can also get on the Oxygen network we provide that kind of service for them. For us it is building the broadband Ecosystem and we operate with every player in the industry so it's really not like a competition.
Listening to what you just said users are not going to buy any modem. You operate within the space where Wi-Fi reaches, so how are you going to make your money?
We sell vouchers at the moment, we have payment module where we have the internet vouchers, you will see those vouchers demonstrated here, and you will get one to use. We have Pay as You Go vouchers, you may want to use one hour which is N100, and you might want to use a whole week which is N500, to get on internet. So they are voucher-based systems, and that is where we make our money aside from the B2B systems that we have.
Every provider enters the market with claim of service superiority but soon after, they begin to have glitches too, so how are you going to make your customers believe that your service is different?
We are three weeks old in the market, and within two weeks, we have been able to have 6,000 unique users in the Computer Village, that tells you a lot, we have a user getting on the network every five minutes and that is our experience, now if our network is not that good people won't get on. We have also spent 12 years putting all these together and as an entrepreneur it was difficult raising fund then for 12 years we were looking on technology. It easier for us to upgrade and it takes hours and not days it is simply our access point base on the proprietary solution that we have developed so it's pretty simple to provide service for our subscribers and make them enjoy the same user service. For Computer Village alone we have spent $2 million to provide service for them that tells you the kind of board we have and the kind of strong backing we have and the kind of people who believe in Oxygen, and we want to put that across Lagos, we want to put hotspot in every city in Lagos and across Nigeria.
How would you describe the Nigeria internet subsector?
We are still at a point we don't like yet. We have 43 million users but users are not the thing, we need subscribers. I could use your BB or your computer, but that doesn't make me a subscriber. We have over 150 million people in Nigeria and we have 0.01 population using the internet, Oxygen wants to improve on that, Oxygen is going to improve on that just like I said earlier, 6000 unique people over a period of two weeks looking for what they need to get online quickly, affordably and fast without any upfront cost for them. So we are not there yet so that's why Oxygen network is in the market. The internet sector is still abysmally disturbingly low when you look at our potentials as Nigerians, we have undersea cables yet we are not feeling the impact because of the economy of the technology we are using. Oxygen is providing the last mile solution and everybody can ride on that platform to ride on the ubiquitous high speed broadband access to thousands of users at the same time.
Is broadband really efficient in Nigeria because people overtime complain of network failures especially when making payments online. Do we really have broadband in Nigeria?
From the perspective of the users, we have broadband, maybe efficiency is the issue. But then there are key issues to this technology; there is the economics and there is infrastructure and when we say technology, Wimax and 3G they are not efficient to provide mass market broadband. It does provide some kind of broadband and not mass market broadband and what is our disposable income in Nigeria for an average user in Nigeria? Can a student afford to buy N9, 500 or a N5, 000 modem and pay a monthly fee? I said we spent up to $2 million here at the Computer Village alone it tells you that infrastructure is also a key issue. We are using solar power in all our access point which means we are green. So a provider needs to sort out all these issues before you now start thinking of providing quality service, now we can provide quality service because we have partners like Main One.
ADVERTISEMENT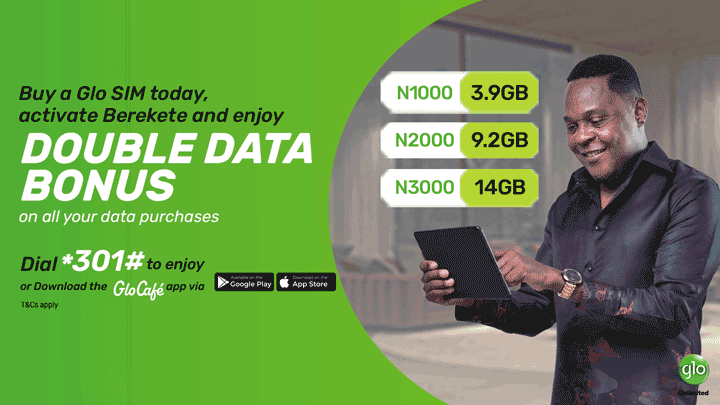 Comments