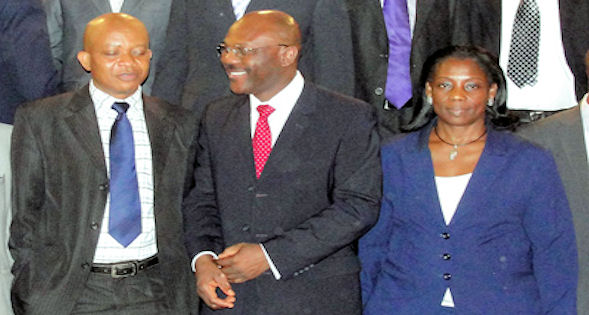 SystemSpecs was honoured recently as Nigeria's 2010 Software Company
of the Year by the Nigeria Computer Society (NCS). Also, it received a
recognition plaque as 2010 Leader in Software & Application Services
from the IT Edge Intelligence Unit (ITE-IU) organizers of the West
Africa Top 50 Technology Business Enterprise.
The ITE-IU is the business technology intelligence unit of Know-How
Media publishers of IT Edge News.Com. The West Africa Top 50
Technology Business Enterprise is an annual rating of the leading
technology enterprises within the ECOWAS sub-region. The ranking was
instituted in 2005.
In the presentation ceremony which took place in Lagos, John Obaro,
Managing Director of SystemSpecs said, "We are delight by this
recognitions from two reputable organizations which over the years are
helping to develop and re-shape the Nigerian IT landscape. We pledge
to continue to up hold the values and responsibilities these
recognitions have placed on us. We would work even harder to ensure we
win it again this year"
Professor Charles Uwadia, President NCS who was represented by Dr.
David Adewumi, NCS 1st Vice President said, "SystemSpecs is a pride to
the society and our industry. Your products, works and contributions
to the growth and development of the software sector in Nigeria have
remained consistent. It is not a surprise that your company has won
this category of the Nigeria Information Technology Merit Award
(NITMA) back-to-back."
Segun Oruame, Chief Executive Officer of Know How Media said, "Our
recognition and annual ranking of companies is based on values they
bring to their environment of operations and impact on the people of
their environment. SystemSpecs is an icon in its market and a Nigerian
company proving that it can play well and play strong. It is local in
development but global in outlook. Congratulations SystemSpecs as we
look forward to your consistent contributions to technology
development in the WA sub-region."
SystemSpecs is a software house with a focus on providing the most
qualitative Human Capital Management and Financial software solutions
for the Nigerian and African markets.
ADVERTISEMENT