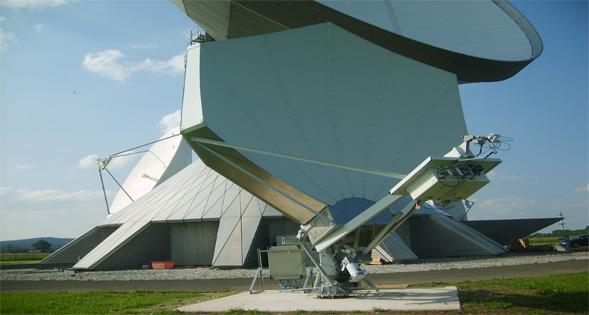 The Nigerian Communications Satellite Limited (NIGCOMSAT) has put its weight behind the 4th IT Edge Convergence Forum holding in Lagos, November. Engr Ahmed Rufai, CEO/ Managing Director of NIGCOMSAT Limited, will be leading discourse on 'Satellite Connectivity Infrastructures and the broadband challenge: The NIGCOMSAT Perspectives' in a session designed to afford the leading Africa satellite communications company to enlighten on the growing significance of communication satellite to open up the continent and drive convergence in the world's last communication market. The One-Day Forum with the theme: 'Driving Convergence through Connectivity Infrastructure, is organized by IT Edge Intelligence Unit (IT-IU); publishers of IT Edge News.Com.
Some analysts are touting likely fall in the market share of communication satellite companies with the entry of new connectivity sea cables including Glo 1, Main One and EASSY that are expected to radically improve the continent's international connectivity. But most analysts expect an increased earning for satellite as they are expected to rev up on the unexplored remote locations in the hinterlands and also provide strategic transmission nodes for governments and other sensitive public sector processes.
"The communication satellite niche cannot be replaced by sea cables. Satellites offer point to multi-points transmission and provide critical coverage in areas that cannot be covered by sea cables. In spite of the huge amount of cable resource in the advanced economies and the presence of land connectivity, satellite transmission is still a dominant player in those economies," said Rufai in Lagos at a media forum. NIGCOMSAT Limited launched the continent's first communication satellite (NigComSat-1) 13 May 2007 to begin Africa's gradual march into ownership of communication satellite backbones.
NigComSat-1 failed in orbit after running out of power due to an anomaly in its solar array. The satellite, which is the third Nigerian satellite to be placed into orbit, was launched into a geosynchronous transfer orbit and subsequently it was successfully inserted into a geosynchronous orbit, positioned at 42.5oE. It had a launch mass of 5,150 kg, and had an expected service life of 15 years. NigcomSat-1 represented a milestone for China's satellite export business. For the first time the China Great Wall Industry Corporation provided all aspects of in-orbit delivery of a satellite to an international customer. This included satellite manufacture, launch services, ground station construction, project financing, insurance and training.
On March 24, 2009, the Nigerian Federal Ministry of Science and Technology, NIGCOMSAT Ltd. and CGWIC signed a further contract for the in-orbit delivery of the NigComSat-1R satellite. NigComSat-1R is also a DFH-4 satellite, and is expected to be delivered in the fourth quarter of 2011 as a replacement for the failed NigComSat-1.
"Convergence will feed on availability of large bandwidth. That is why we are excited at the new prospect opened up by connectivity infrastructures of privately owned sea cables and the coming of governments owned communication satellite providers such as NIGCOMSAT Limited and RASCOM QAF to pave the way for a more connected continent," said head of IT Edge Intelligence Unit (ITE-IU) Segun Oruame, adding that the 4th IT Edge Convergence Forum is streamlined to look at the expanded potential opened by the increased number of submarine connectivity infrastructures as well as the co-competition feeds from communication satellite backbones.
The Forum already has the support of the Nigerian Communications Commission (NCC) and the Association of Telecommunications Companies of Nigeria (ATCON) which president, Engr Titi Omo-Ettu, is leading discourse on a presentation titled 'IP Networks and the Future of Convergence – An ATCON Perspective' to be published online days before final event as is the tradition with Forum practice to allow for fuller dissection of viewpoints at the Forum.
Other speakers are Mr. Sunday Folayan, Chief Executive Officer, Skannet Nigeria Limited,Ibadan, who is speaking on 'Broadband, Convergence and Africa's New Connectivity Infrastructures: Skannet Perspectives;'
Mr. Gboyega Ojuri, CEO Junisat Solutions whose presentation focuses on 'Africa's New Undersea Connectivity Infrastructures: Bringing Connectivity from sea to land – How can Infrastructure providers widen the market for broadband and how best to engage other last mile providers?' Others are Mr. Yele Okeremi, Precise Financial Systems Limited, speaking on 'Software Applications and the Future of Convergence – A PFS Perspective'; Mr Gerald Ilukwe, CEO, Galaxy Backbone Plc with a presentation on 'Africa's New Connectivity Infrastructures, Convergence and meeting the Broadband Challenge in the Public Sector: Galaxy Backbone Perspectives'' ; and Ms Funke Opeke, CEO, MainOne Cable Company offering industry insights
in 'Broadband, Convergence and Africa's New Connectivity Infrastructures: Main One Perspectives.'
The 4th Convergence Forum offers a window for stakeholders from the Broadcast and Telecoms; Banking and Insurance; Education and Entertainment; and the wider private and public sectors to articulate shared ideas on advancing the industry for the mutual benefits of all players in the field. "Convergence is radically improving the stakes for communication, collaboration, media distribution, delivery of news, sports and entertainment contents; and reconfiguring the business of book publishing, retail banking, e-commerce, advertising, e- and m-payments, dating and socializing like never before within the framework of the digital age. All these can only be possible when connectivity infrastructures are available."
Forum 2010 is incorporating the yearly IT Edge West Africa Top 50 Technology-Business Enterprises Ranking Ceremony as part of the West Africa IT Edge Convergence Forum 2010 in Commemoration of Nigeria's 50th Jubilee Anniversary as a Sovereign Political Independent Entity. The IT Edge West Africa Top 50 Technology-Business Enterprises Ranking is the yearly computation of the IT Edge Intelligence Unit (IT-IU) ranking the Top companies with extensive influence and marketplace relevance within the West Africa sub-region. It has been conducted as an annual event since 2006 with research findings of several analysis companies and regulatory institutions including the NCC forming part of survey content.
The IT Edge West Africa Convergence Forum has over the years become the leading and sole event in all of West Africa centering on the merging and expansive opportunities in Convergence. It has partner with the NCC since it was initiated. It has also enjoyed tremendous support from leading regulators, operators and industry associations within and outside the country including the National Communications Authority (Ghana), West African Telecommunications Regulators Association (WATRA), Association of Telecommunications Companies of Nigeria (ATCON); the Gambia Ministry of Information and Sierra Leone ICT Association (SLICTA). World's No.1 equipment vendor Sweden's Ericcson was a major Sponsor of last year's 3rd IT Edge West Africa Convergence Forum which held in Abuja for the first time. The 4th Forum is working closing with the ATCON.