Glo 1 ready for market
By SEGUN ORUAME, Lagos
Glo 1 is ready for market in what would potentially change Africa's bandwidth demand for good.
The 9,800 km long submarine cable owned solely by one of Nigeria's biggest network Globacom carries data and internet traffic between Nigeria and the rest of the world. The multi-million-dollar contract was built by Alcatel-Lucent of France, world leaders in submarine cabling.
Glo 1 provides connectivity from Lagos to Bude in United Kingdom through fibre optic cable laid undersea. The cable which is of the 32 STM 64 type has virtual infinite capacity and therefore offers sufficient capacity for traffic for the Globacom's mobile, fixed, and internet telecommunication services.
"[We are] pleased to announce that the end-to-end testing of the Glo 1 facilities conducted in London, the United Kingdom, and Lagos, Nigeria, was hugely successful.The completion of the Glo 1 submarine optic fibre cable at the Nigerian and United Kingdom end [is] not only a pride of Nigerian enterprise but also a giant stride by West Africa in its quest to bridge the digital divide between the sub-continent and the rest of the world," said Globacom's Group Chief Operating Officer, Mohamed Jameel, in official statement in Lagos to herald the first steps to the official launch of Glo 1.
]]>
The 9,800 km submarine cable has 16 landing points in Europe, North and West Africa. It has been integrated with the over 10,000 km nationwide optic fibre cable of Globacom to open a fresh vista for subscribers in Nigeria's burgeoning telecom market to "enjoy ultra fast internet services and reliable download and upload of data from anywhere in the world," said Jameel in the statement.
Globacom is promising 99.9% up time reliability and high speed data, voice and video connectivity that should meet and support the large bandwidth requirements of direct consumers and other service providers. The offer will radically alter the bandwidth landscape in some of the world's worst bandwidth famine area including Nigeria and about 15 other West African countries where Globacom has landing posts.
"Glo 1 will provide the needed opportunity for West African countries and indeed Africa to leap forward economically through an excellent communication network and a cost effective voice, data, video and e-commerce services across Africa, Europe and rest of the world", said Jameel.
Glo is also planning to set up a Level 3 centre Data Centre with 75,000 square feet space to offer disaster recovery services, the first operator to do so in Nigeria. Data centres can be connected to each other using Glo 1 for disaster recovery across the globe.
Other services that Glo 1 will offer include telemedicine and seamless video conferencing. With the facility, medical information can be transferred through interactive audiovisual media. Remote medical procedures or examinations will therefore be possible. "Glo 1 will aid on-line diagnosis and video conferencing during surgery and research, while distance learning will be made easy by enabling a class of students and lecturers in West Africa to participate in a real time class in Europe, America and any other part of the world," Globacom explained.
ADVERTISEMENT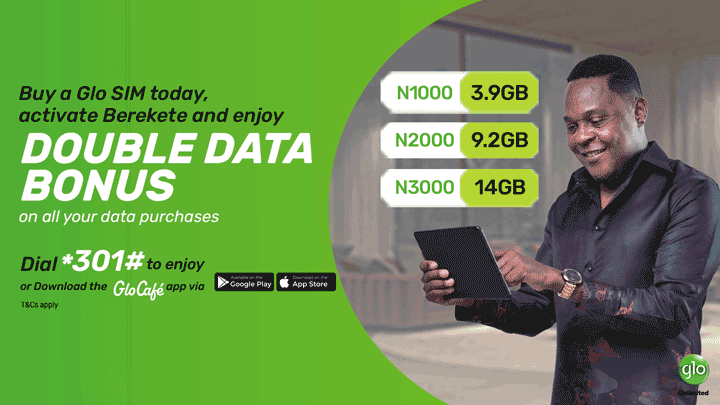 Glo 1 will also facilitate premium video conferencing between multiple locations across the country and the West African region, thus reducing operational cost incurred in traveling by corporate organisations.
It will improve e-governance in areas such as on-line insurance and licence issuance and other government papers as well as boost entertainment and banking industries. It will also enable the establishment of effective and efficient call centers across the nation.
Among those who will benefit immensely from the commissioning of Glo 1 are Internet Service Providers (ISPs), Telecom Carriers, Telecom Operators, Network Integrators, big corporate organisations such as banks, insurance companies, oil & gas companies, the print and electronic media, the regulatory authorities, policy makers, governments at the federal, state and local government levels and the general public.
Globacom said it will start the commissioning process by mid July by meeting with the different key stakeholders to present Glo 1 and its benefits to them before the official launch.