Now you can click online and get fed
6?s with
Joe Falter, Founder & Chief Executive Officer of Hellofood
What is Hellofood, how does it work?
Hellofood is a website where customers can order food from any restaurant in their city. Our purpose is to make food ordering fast, easy and fun. We cover all the popular restaurants, and can get food to pretty much any home, office building or catered event in the city. What do I mean by that? For example, in Lagos we now have about 220 restaurants that we work with. We work with Sweet Sensations, Johnny Rockets, Debonairs Pizza, Ghana High, Coldstone Creamery, Mama Cass, and tons of others, so we have all types of food covered; in term of prices, if you want a tasty lunch meal for N400, you can get, if you want to order a fancy meal at N10, 000 you can get it; or any price in between. And when we talk about location, we are servicing every occasion and location, whether it is somebody ordering from the office or from home or even somebody that is organizing a catered event for one thousand people, we can handle it. Our goal is that whenever somebody needs food, Hellofood is the first thing that comes to mind.
Does it mean Hellofood deals with restaurants and not directly to individuals?
We help individuals order food with zero stress, which requires relationships with all the restaurants, and fantastic customer service for individuals. When you visit the site, you click on your area and it shows you all the restaurants that can deliver to you. We have all the restaurants and their menus listed on the site, so you click on the food you want, and it goes into your basket. You don't have to call the restaurant; you don't even have to call us. All you need to do is to use the website on your PC or Blackberry, or download our iPhone or Android apps. We are trying to remove all the hassles from ordering food. Calling a restaurant directly can be problematic: you have to find the number somewhere, you have to ask the waiter/waitress what's available on the menu over a bad phone line, and it can take three hours to get the food or there's a misunderstanding and it doesn't happen at all. So what we have done is to remove all that hassle, and allow you to order in a few clicks with all the information presented to you cleanly – No Wahala!
ADVERTISEMENT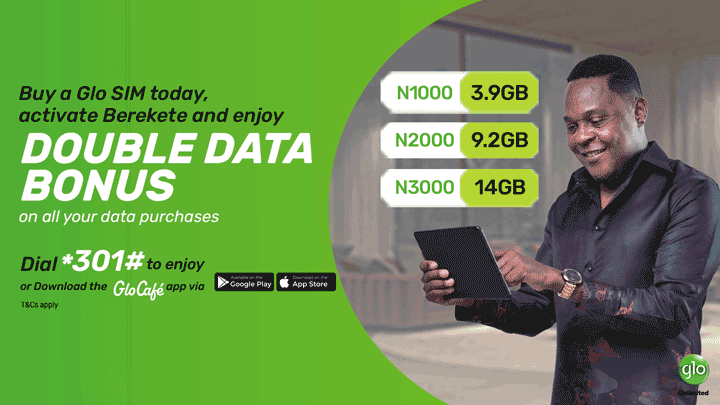 How do you hope to break even with logistics challenges?
We have built in redundancy in all of our systems; if one doesn't work, then we use another one. Customers can place orders on the website, the app or make a call; they can even place orders by sending us a BBM. But in any case, we have had virtually zero issues due to infrastructure problems.
Will you say life in Lagos is gradually going online?
I think so! When you look at the data, nearly 50% of Nigerians have access to the internet – 50% of 160 million people is huge. I am from the UK, there are 70 million people in the UK, and so the online population in Nigeria is bigger than the total population of the UK. So it is a huge market, which has historically really lacked good online services. In London, when I want to get a service, the first place I look to is online because I assume it will be there. Here, that wasn't the case before, but now it is. Here we have Hellofood and other online platforms; it is easier now to get services online.
There is always an issue of trust doing things online, how secured is your site?
We operate cash on delivery, so there is no risk to the users. They order their food; when it gets there, they pay cash. It is not the case that they pay op front and if it doesn't work out, they lose their money. It is not like that, they pay cash on delivery.
Can you say the business is doing well in Nigeria?
Absolutely, since we started, we have grown by 20% every week. A lot of the growth is organic; it wasn't just a case of throwing a lot of money on marketing. Actually, we haven't spent a lot of money on marketing at all. We have seen thousands of people coming to the site on a daily basis, and tens of thousands of customers in Lagos. I think the main challenge for us (which is at the same time an opportunity) is people not being aware that they can actually get things online. We are literally creating a new market in Africa. Now, we have to tell people how to do it, so I will say our biggest challenge is behavior change. But I see people discussing Hellofood on twitter and social media all the time, and I can say the future is exciting for us.
The future is exciting for us!
Fancy clicking for 'amala and ewedu' online and getting it right in your office in Lagos after a little waiting time. That was inconceivable years back. But it is happening here now and it is the sign of things to come. Online culture is increasingly catching on here aided by the ubiquitous Internet, cheap smartphones and the necessity to get things done without hassle. If you live in a city like Lagos, your office takes nearly 80% of your daily weekly life. Everything is done in the office: work, food and shopping. With online, it comes with just a simple click. A new world of business opportunities is emerging fostered on ICT infrastructures and a new wave of entrepreneurs is emerging as knowledge entrepreneurs. As businesses reengineer, new thinking is taking over and customers are being remodeled from the traditional stereotype of who is a client. Businesses like Hellofood may appear to work on simple model of connecting customers to products via technology pipes. But they actually do more. They are intensifying the ingredients to successfully run new businesses on creativity, trust-building and promptness. That is the future of all industries.