Data clambers over voice as young people twit on
Mobile data usage is booming in Nigeria helped by advances in technology, regulatory response and a huge youth market.
Knowhow Media International Reports – Writer/Researcher: MARTIN EKPEKE
You still wonder why social media is popular and why so called data explosion ever happened. It's the mobile phone. Mobile phones are everywhere. They were less than 300, 000 as at December 2002 in Nigeria's then less than six months old mobile market. Then telcos only provide voice and SMS services. Now, over a decade, there are about 120 million mobile phone subscribers. Half of that number use mobile Internet.
Market is data-centric
Wireless operators across the globe are seeing record breaking growth in mobile data services. There seems to be no tipping down on growth as research findings are indicating that consumers will dramatically increase their use of mobile data services in the next ten years. The reasons are not farfetched. In Africa, particularly Nigeria where landlines virtually stalled for decades, phones were both inaccessible and unaffordable and provided by notoriously inefficient government-owned telcos. In Nigeria, state-funded NITEL only managed 540, 000 phone lines for a population of over 150 million in 40 years. When privately owned mobile operators emerged, they changed the market for good and forever – practically making NITEL moribund in the high competitive market that privatization ushered in. In 10 years mobile phone subscription grew to over 120 million driven by both demands for basic talk and data services in an increasingly sophisticated market.
ADVERTISEMENT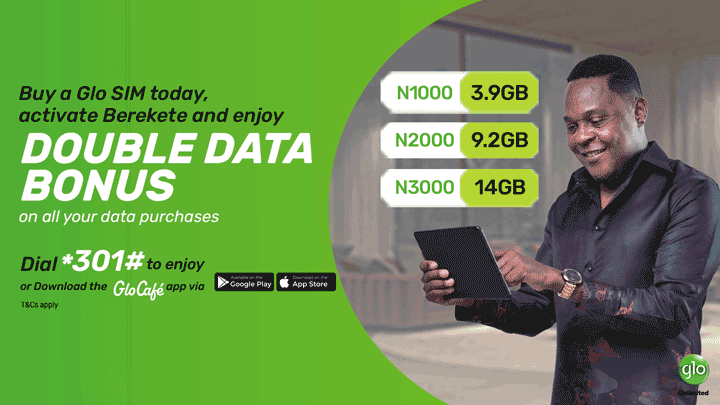 In the last four years, mobile services have become largely data centric driven by social media, mobile apps for virtually everything from banking and news services to meal orders. The catch is that this market segment is mostly youth-dominated – almost 75% of the youth population subscribing to mobile services use data services. The youth segment hovers between 50% to 55% of the total mobile subscription as a survey-report yet to be made public by KMI shows.
As at October 2013, active mobile internet subscriptions on the official website of the Nigerian Communications Commission (NCC) show that about 60 million Nigerians out of about 120 million mobile phone users are using mobile devices to access the internet. MTN is leading the pack with 50% representing 29.4 million subscribers followed by Globacom 23% representing 13.2 million. Airtel has 17% representing 9.6 million while Etisalat is the least with 10% representing 5.6 million mobile data subscribers.
Voice is elderly; youth is mobility
What is catching the fancy of young people and why is mobile data bound to swing upwardly? Social sites with audio and musical contents are hot. Telcos are leveraging on this to sell data bundles promising faster download speed and heavy discounts. Where do young people go to? Youtube and several video sites. Flicker and several picture sharing sites. Badoo and several online dating sites. Blackberry, Whatsapp messengers and several other communication tools. And of course, Facebook, Twitter, Twoos and several others. Hundreds and hundreds of them!
While users plug in, the operators are jiggling their data offering to expand the portfolio and lower data cost. But number counts best. The bigger the network, the higher the ability to leverage on numbers to dominate the emerging data market. MTN has maintained the lead, the figures show that the growth has been steady especially in Q3 and Q4 of 2013. It has grown from 48.1 million in June to 50.1 million in July, while August and September recorded 52.7 and 56.1 million respectively. These figures appear very huge considering the country's population of 170 million.
With this consistent upward growth, analysts believe mobile data will have more than 11-fold increase between 2014 and 2018. The implication is there will be strong pressure on operators to increase their network capacity due to increasing network failures experienced by subscribers, as the tremendous growth in mobile data traffic will leave them with no choice if they are to stay in business. As the KMI survey on 'Convergence Trends' notes: "The future of market dominance foists on affordable smastphones, bandwidth and network spread." Consumers will go for cheaper smartphones because they want to do more than voice. Bandwidth demand and spread will become imperative. The size of a network is a crucial factor to which operator can leverage on the opportunities to go the way of the future.
London based Mobile Communications International recently quoted Cisco as saying global mobile data traffic will grow 11 fold by 2018. In the Cisco latest annual Visual Networking Index (VNI), global mobile data traffic is expected to grow from 18 exabytes per year at the end of 2013 to 18 exabytes per month by 2018; equivalent to 190 exabytes per year.
The report revealed that data boom will be driven by continued strong growth in the number of mobile internet subscribers and M2M connections. The number of mobile users is also expected to increase from 4.1 billion in 2013 to 4.9 billion by 2018 while the number of mobile connections is forecast to hit more than ten billion by 2018; eight billion personal mobile connections and two billion M2M connections. This Cisco forecast is seen to be much more reserved than some.
With this forecast, it is expected that average global mobile data speeds will grow from 1.4Mbps in 2013 to 2.5Mbps by 2018. It is also hopeful that by 2018, mobile video will represent 69 per cent of global mobile data traffic, up from 53 per cent in 2013. This growth is not only indicative of mobility becoming a critical characteristic of almost every network experience and the value consumers and businesses alike place on it, but it also represents the immense opportunities ahead for service providers who sit at the centre of the Internet of Everything.
Explosive growth in mobile data consumption is set alter Africa's telecommunications landscape. MTN Nigeria, the country's leader in spread and subscribers base has said it is aware of the projected growth of mobile internet and the pressure such growth places on their network. According to the network provider, they are not slowing down on improving their network. One of the efforts is continuous investment in network expansion. In 2012 alone, the operator which is also the biggest investor in WACS cable, invested over $1.3 billion on network expansion.
All these are gear toward getting ahead of the rapidly evolving mobile technology in Nigeria. "MTN remains committed to availing more Nigerians of the opportunity to connect and be connected to. That is why we are pursuing new growth opportunities and increasingly focusing more efforts on data and ICT services," said Chineze Gbenga-Oluwatoye, Senior Manager, Corporate Communications at MTN to eT Edge News in Lagos.
Voice is past. Data is now and future
Voice is history. Data is the present and the future. Whether for social engagements or for business, everything revolves round email, video call, mobile/web marketplaces, and everything that convergence has brought. It is internet for everything! Mobile data tsunami is here, networks that get overwhelmed by its surge are bound to become moribund in the second mobile revolution after voice. The future profitability of mobile operators is strongly determined by how quickly they can improve the network cost base to accommodate the mobile data tsunami.
Presenting its outlook for the African telecommunications market in 2014, International Data Corporation (IDC) predicted a wave of growth in digital and media content over the coming 12 months as smartphone ownership explodes and African telecom users become more sophisticated in their use of mobile applications. The global research and market advisory firm also identified the ongoing rapid deployment of 3G networks across the continent and the fledgling expansion of LTE services as key drivers of this growth in mobile content.
With global smartphone shipments up more than 40% in year 2013, Nigerian telecom service providers are intensifying their efforts to develop their own application stores and generate local content. These developments, coupled with the growth in mobile data consumption through smart devices, are setting the scene for the spread and use of smartphones and mobile applications in 2014. A great percentage of mobile phone users in Nigeria use mobile phones to access social media contents. Mobile data usage has gained very good footing in Nigeria because of the convergence of technology, media contents and the exploitation of advanced functionalities of mobile phones. These have forced many people who don't have access to computers to begin to use the mobile phone to get access to websites of their choice.
Government gearing up for data explosion as operators warily approach collocation
Government is already making effort at creating an enabling environment and making additional spectrum available. The 2.3GHz spectrum for data will be auctioned by Q1 2014. Some stakeholders are still expressing fears that the wireless spectrum, the basic raw material network operators need to expand their capacity is in short supply. They warned that without additional spectrum for LTE and 4G network, mobile data traffic will exceed capacity by 2014, driven mainly by the growth of mobile video. The argument is that unless more spectrums become available over the longer term, the rise in smartphones use, the expansion of mobile internet services and the economic benefits the industry generates could be checkmated. Mobile operators can also take two major approaches to significantly contain the mobile data explosive growth; optimization of the existing infrastructure by concentrating on expanding network capacity through migration to LTE. By so doing, they will benefit from additional spectrum allocation and higher spectral efficiency.
They can also share network infrastructures. Entering into network sharing agreements has proven to be a highly successful strategy especially for smaller to mid-size operators. By sharing the same infrastructure from base stations to backhaul, mobile operators can save up to 35 per cent of the cost of the shared site, said experts. But the snag, the big operators are still wary of collocation. Infrastructure sharing still doesn't have a strong appeal for domineering players who instinctively want to have absolute control of how their network is deplored and managed.
'Voice is history. Data is the present and the future. The future profitability of mobile operators is strongly determined by how quickly they can improve the network cost base to accommodate the mobile data tsunami.'
'That is why we are pursuing new growth opportunities and increasingly focusing more efforts on data and ICT services' – Chineze Gbenga-Oluwatoye, MTN Nigeria