Today, Instagram is introducing new ways for people, especially teens, to manage their time and experiences on its platform by including a "Quiet Mode" to help people focus and set healthy boundaries. The updates include:
We're launching Quiet Mode to encourage people to set healthy boundaries with their friends and followers, letting them know when they're unavailable for a certain period, like at nighttime. When someone enables Quiet Mode, they will see an "in quiet mode" status on their profile, and Quiet Mode will mute notifications and send an auto-reply in response to DMs from friends and followers. Teens tell us they feel like they need to be available a lot of the time, so we will proactively prompt teens to turn on Quiet Mode when they spend a certain amount of time on Instagram at night.

We're making it easier for people to see more of the content they're interested in and less of what they want to avoid. People can now hide multiple pieces of content in "Explore" at once, right from the Explore page, without needing to click into each post individually. We've also updated our Hidden Words tool—which previously protected people from seeing scammy DM requests and comments—so that users can hide recommended posts with certain words, emojis, or hashtags in the caption.

We are updating our parental controls, to make it even easier for parents to manage their teen's experience on Instagram. Parents will now be able to view their teen's Instagram account settings, including privacy and content defaults and controls. They will also receive a notification if their teen updates a setting or any accounts their teen has chosen to block, to help parents and teens chat about these changes together about these changes.
Quiet mode' will help people focus, and encourage people to set boundaries with friends and followers. Once enabled, you won't receive any notifications, your profile's activity status will change to 'In quiet mode' and we'll automatically send an auto-reply when someone DMs you.
Teens have told us that they sometimes want to take time for themselves and might be looking for more ways to focus at night, while studying, and during school. You can easily customize your 'Quiet mode' hours to fit your schedule and once the feature is turned off, we'll show you a quick summary of notifications so you can catch up on what you missed. Anyone can use 'Quiet mode', but we'll prompt teens to do so when they spend a specific amount of time on Instagram late at night.
'Quiet mode' will be available to everyone in the US, United Kingdom, Ireland, Canada, Australia, and New Zealand today, and we hope to bring it to more countries soon.
Advert

New Ways to Manage Your Recommendations
We want to give people more control over the content they see on Instagram, so we're introducing new features that allow people to tell us what content they don't want recommended to them.
First, you can now choose to hide multiple pieces of content in Explore that you aren't interested in at one time. Additionally, when you select "Not interested" on a post seen in Explore, we'll aim to avoid showing you this kind of content going forward in other places where we make recommendations, like Reels, Search and more.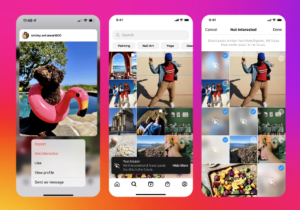 Next, while you can already hide comments and DMs containing specific words, we're now expanding this feature to apply to recommended posts you might see across Instagram. Add a word or list of words, emojis or hashtags that you want to avoid – like "fitness" or "recipes" –  and we'll work to no longer recommend content with those words in the caption or the hashtag. You can access this in the Hidden Words section of Privacy settings.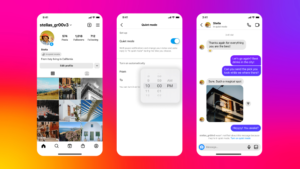 Support Teens' Experiences with Updated Parental Supervision Tools
In addition to providing teens with more ways to manage their time and experiences on Instagram, we want to help parents be more aware of the choices their teens make, and make it easier for them to have discussions with their teens about their settings through Family Center and supervision tools.
Recently, we added the ability for parents to see their teen's Instagram settings, including privacy and account settings. If their teen updates a setting, parents will receive a notification so they can talk to their teen about the change. Parents can now also view accounts their teen has blocked.
For conversation starters and to learn more about the available parental supervision tools, including how to set time limits, schedule breaks, be notified when teens share a report and more, visit Family Center.
These updates are part of our ongoing work to ensure people have experiences that work for them, and that they have more control over the time they spend online and the types of content they see.