Matters eRising with Olusegun Oruame
The African startup economy is booming and it is not going to burst anytime soon.
Led by Nigeria, the continent's largest economy, the Africa's startup ecosystem is at the dawn of its growth and is clearly drawing global interests to underscore its rising value and the increasing need for collaborations. Not surprisingly, there is a growing interest by the global community to explore the diverse opportunities still green and largely untapped.
DWTC came calling in May
The Dubai World Trade Centre (DWTC) came calling in May with a pan-African startup roadshow and competition designed to create awareness for startups across the region, notably Nigeria for international opportunities.
The DWTC is the organiser of GITEX  and Global Future Stars — a startup gathering now rebranded as North Star, an annual event touted as the largest global gathering of startups, mentors and investors.
The African startup roadshow is part of a new deal with which the DWTC hopes to build robust collaborations with local authorities such as the National Information Technology Development Agency (NITDA) in Nigeria to further explore ways of enhancing the value proposition of Africa's startup economy. In Nigeria, the roadshow and pitching held in Abuja and Lagos with strong support of the NITDA opening and strengthening new ways across borders to boost Nigeria's startup economy.
ADVERTISEMENT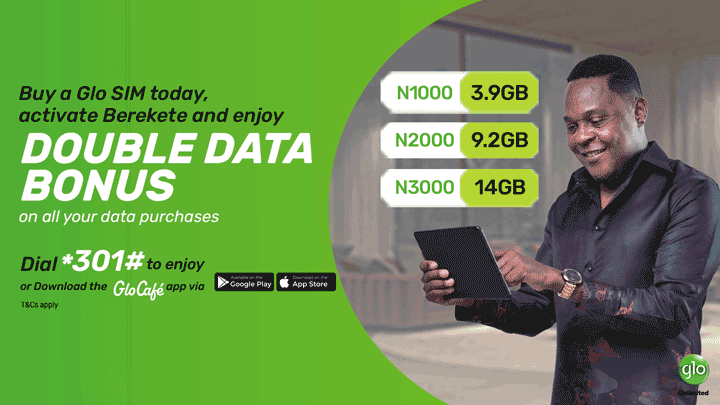 The North Star Pitch Competition had four winners: Paddy Cover and Pricepally (Lagos) FLOEWS and Medtech Africa (Abuja) in Nigeria to be fully sponsored by the DWTC to attend the GITEX Technology Week with the North Star event from October 10-14, 2022. The four Nigerian startups will join their counterparts from the rest of Africa to leverage exposure, funding and partnerships from across the world.
The world cannot ignore Africa's startup economy
Africa has become the startup continent you cannot ignore. Here are some exciting facts to begin with. According to Briter Bridges, African startups raised about $4.9 billion in total estimated funding in 2021. Of this figure, about $4.65 billion was disclosed and $300 million undisclosed. Briter Bridges offers market insights to businesses and investors across Africa, Latin America, and Asia Pacific,
It is an interesting climb for an ecosystem clearly in transition as the 2022 figure showed more than a 250% increase from 2021 total funding of $1.3 billion raised from over 740 deals or above 25% for 2020.
The upward swing revealed a sector that is supercharged in spite of its challenge considering that in 2019; the ecosystem had $1.3 billion pumped into it and grew to $1.7 billion in 2020.
African startups have continued to record more than three times the pulsating growth for 2020 and the results have been outstanding. The continent has seven unicorns to boot. Five of the unicorns have a strong Nigeria stamp including Flutterwave, Interswitch, Esusu, Jumia and Andela. Don't forget OPay. All have crossed the $1 billion market valuation.
As the new definers of Africa's fast changing business landscape, the unicorns are pointers to where Africa's 21st century economy is heading led by fledgling enterprises starting to scale and expanding beyond the traditional jurisdictions of older companies.
What is even more motivating is the growing interest in the continent's startup ecosystem by an increasing number of offshore entities forcing local policy makers to take notice and tag along with policies and initiatives that, oft times do not completely reflect the dynamics of the startup sector.
From 2013 when NITDA started using the GITEX platform to promote local startups to international audience, the interest has grown steadily within government circle with more platforms being adopted to explore global exposure for the startup community. But there is still plenty of room for improvements.
Unicorns in Lagos  reworking Nigeria's economy and politics
Lagging policies or not, the ecosystem is already a moving train with no less than 3,300 startups in Nigeria's startup train as at 2020. The figure is now more than thrice that of 2020 and far ahead of any other African country including South Africa and Kenya.
In fact, the Nigerian startup economy accounted for some $1.65 billion raised as seed and series funding in 2021 – nearly half of the funding that was pumped into the entire African ecosystem that year.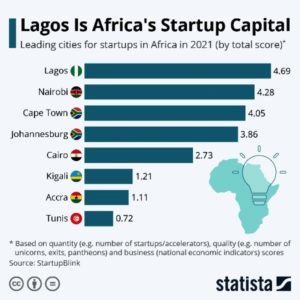 Nigeria's leading position as a thriving startup ecosystem naturally makes Lagos, its commercial nerve, Africa's startup capital. According to one report by Statista, quoting data from StartupBlink, Lagos leads the ranking of African cities when it comes to attractiveness for startups. In 2021, Lagos outperformed its direct competitors Nairobi, Cape Town and Johannesburg, "a trend that is likely to continue…. Lagos is not only the biggest metropolitan area in Africa but has also made a name for itself as a tech hub rapidly advancing towards a 24-hour economy, generating ten percent of Nigeria's total GDP of $432.3 billion."
Nigeria's startup ecosystem can only get stronger with an unrelenting brand appeal to global investors, and increasing collaborations among stakeholders whether within or outside the country.
The DWTC Africa startup roadshow is a significant revelation that Africa's startup economy cannot be ignored, and certainly not Nigeria's. There's a vast window to leverage opportunities among millions of young Nigerians aspiring to be the next Elon Musk. You will see them all over the country particularly Lagos where clusters of efforts are already becoming unicorns to rework Nigeria's economy and politics.