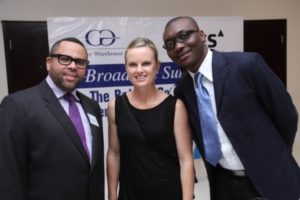 The Computer Warehouse Group (CWG) Plc has said it has sealed a partnership deal with SES, a leading communications satellite operator to ameliorate the N700 billion that Nigerians will spend to buy set-top boxes in order to continue watching television after July 31, 2015 digital migration deadline.
CWG said SES has considerable expertise in digital broadcast, including operating the HD+ high definition service in Germany as well as being the partner of choice for a variety of other broadcast operators. "CWG and SES had introduced a service that allowed any broadcaster to broadcast digital satellite signals that would be received using a variety of standard decoders," said James Agada, CWG's chief technology officer.
He said the SES' expertise extends beyond satellites to also include content management and integration into worldwide content distribution networks. He added that CWG operates both a teleport for the upload of signals to SES satellites as well as a Tier 3 Data Centre that provides hosting services for storage and management of content and signals.
He said the CWG and SES partnership will help bring signals to Nigeria and West Africa, saying the broadcaster will not need to change their existing equipment, but will only need to make a minor investment in digital encoders and they are good to go.
"This means, for instance, that Zamfara State TV can be received all over Nigeria as well as Osun State TV or Channels TV. It means state television broadcasting stations will no longer need to invest in expensive repeater stations in order to cover their states," he added.
The world is transiting to digital TV broadcasting and July 31, 2015 has been set as Nigeria's changeover date. Every television signal will have to pass through a set-top box or decoder before being received by a television set.