By Tracy Yekaghe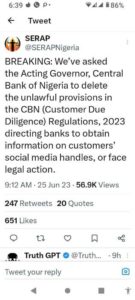 The Socio-Economic Rights and Accountability Project (SERAP) has said it will initiate legal actions against the Central Bank of Nigeria (CBN) over its new regulations mandating financial institutions to gather additional customer information, including social media handles, email addresses, telephone numbers, and residential addresses.
SERAP described the order as "patently unlawful provisions."  But some others see it as a proactive adoption of innovative technology to fortify anti-financial crime measures.
One Lagos based licensed data protection compliance organisation (DPCO) told IT Edge News that the order negates the spirit of the data protection act and such a mandate on the banks by the CBN can only be carried with the consent of the owners of the social media handles.
Consent of customers essential to applying new regulations
Wale Oladejji, a data protection expert in Lagos, said the CBN may not be entirely acting outside of its powers but banks may require the consent of their customers to apply the new regulations. "The question is what happens or what to do with non-consenting customers of a bank?"
In a circular dated 20 June 2023 with the number FPR/DIR/PUB/CIR/007/076, and published on its website as 'Central Bank of Nigeria (Customer Due Diligence) Regulations, 2023' the apex bank ordered banks and financial institutions to implement and comply with the unlawful mandatory provisions on customers' social media handles.
According to the CBN, the objective of the regulations includes, "To provide additional customer due diligence measures for financial institutions under the regulatory purview of the Central Bank of Nigeria to further their compliance with relevant provisions of the Money Laundering (Prevention and Prohibition) Act (MLPPA), 2022, Terrorism (Prevention and Prohibition) Act (TPPA), 2022, Central Bank of Nigeria (Anti-Money Laundering, Combating the Financing of Terrorism and Countering Proliferation Financing of Weapons of Mass Destruction in Financial Institutions) Regulations, 2022 (CBN AML, CFT and CPF Regulations) and international best practices.
"And enable the CBN to enforce compliance with customer due diligence measures in line with the CBN AML, CFT and CPF Regulations."
New mandate infringes information privacy rights of citizens
Under the customer identification section, the required information for individuals includes legal name and any other names used, permanent address, residential address, telephone number, email address, social media handle, date and place of birth, Bank Verification Number, Tax Identification Number, nationality, occupation, public position held, and name of employer.
Individuals are also under obligation to provide an unexpired passport, national identification card, residence permit, social security records, or driver's license as proof of identification.
Some experts argued that international passport and other information including provision home address and tax identification and demanding for individuals' social media handles constitutes an infringement on the information privacy rights of citizens.
Guidelines reinforce customer identification protocols
But some others see the new guidelines as landmark to combating financial crimes and reinforcing customer identification protocols.
When banks collect and verify customers' social media handles as part of the Know Your Customer (KYC) process, they are better positioned to know and understand their customers, said one expert in Jos, Plateau State, central Nigeria..
The consensual thinking is that by incorporating social media handles into the KYC process, financial institutions can tap into the vast pool of information available on social platforms to reinforce their due diligence efforts.
Also, by leveraging the insights gleaned from customers' social media presence, including financial behaviours, associations, and lifestyle choices, banks can effectively verify identities and promptly identify any suspicious activities. This proactive approach empowers financial institutions to strengthen their defenses against financial crimes, thereby safeguarding the integrity of the Nigerian banking system.
The experts believe this should be viewed as part of CBN's commitment to fortifying anti-financial crime measures and evidently a proactive adoption of innovative solutions that harness the potential of technology and digital footprints.
The CBN sets a precedent for other regulatory bodies globally by  embracing social media verification as an integral part of the KYC process in a way that also highlights Nigeria's dedication to staying at the forefront of financial security and regulation.