By Raphael Oluwole, Abuja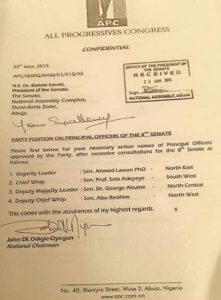 A letter by the  Chairman of the All Progressive Congress (APC), Nigeria's ruling party, directing the Senate's President, Dr. Bukola Saraki, to follow through with the party's choice of principal officers for the upper chamber of the legislative assembly has leaked online to further exacerbate the raging crisis within the party.
The stamped 'received copy' of the one page confidential letter signed by National Chairman of the APC, Chief EK Odigie-Oyegun, was leaked online by some social media blogs including CKN Nigeria revealing the growing bitterness and infighting over who gets what as the party grapples with managing its grip on power in Abuja, Nigeria's administrative capital.
"That letter was exposed to the media by some persons in the assembly to portray the party and the chairman of the APC in bad light," said a party's stalwart not authorised to speak with the press.
Spirited efforts to quench the in-fighting within the party including a recent one by Nigeria's former president, Chief Olusegun Obasanjo, has failed.
Being the party with majority of senators in the senate, the APC is expected to produce Majority Leader, Deputy Majority Leader, Chief Whip and Deputy Chief Whip while the opposition People Democratic Party (PDP) is to have the positions for Minority Leader, Deputy Minority Leader, Minority Whip and Deputy Minority Whip.
The bickering within the APC over the emergence of Senator Saraki as president of the Senate against the party's choice of Senator Ahmed Lawan has deepened. Not even a two weeks recess declared by the upper chamber to allow members and the party address their internal crisis has helped.
While Lawan is the party's choice for the position of the Majority Leader, most senators from the North East of the country favour Senator Ali Ndume who reportedly defeated Lawan in a mock election conducted by senators of the North-East APC fold.  Senator Ndume led Lawan with nine votes to two.
But the APC party leadership is insisting on the superiority of the party's choice. The leaked letter from Chief Oyegun, which some argued have portrayed the party as anti-democratic, would certainly not make the contenders to sheath their sword.