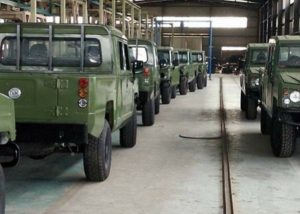 Innoson Vehicle Manufacturing Ltd (IVM) has exported its made-in-Nigeria vehicles to Sierra Leone. The vehicle export begins the first batch of order by the Nnewi-based indigenous automaker to the Sierra Leonean government two years after President Muhammadu Buhari signed the African Continental Free Trade Area (AfCFTA) agreement.
The export to Sierra Leone by Innoson opens a new chapter in Nigeria's foreign exchange earnings and underscores the roaring engines of the local auto industry where private sector investors have pumped over N500 billion in the last few years to sustain its rebound and commitment of the National Automotive Design and Development Council (NADDC) led by its Director General, Jelani Aliyu.
The IVM vehicles, built to the order by Sierra Leone's Ministry of Defence, arrived the West African country last week, according to reports.
Advert

According to Head of Corporate Communications, Innoson Group, Cornel Osigwe, in a statement, the "various models of vehicles bought within that dispensation were for the present administration."
Osigwe added that "subsequently, the government of Sierra Leone, led by President Julius Maada Bio, placed an order for the manufacturing of Innoson vehicles valued at $4.7 million for the officers of the Republic of Sierra Leone Armed Forces (RSLAF).
The first set of vehicles supplied from Nigeria to Sierra Leone left on Monday from Queen Elizabeth 2 Port (Sierra Leone's seaport, 'Water Quay') in Free Town for distribution to military officers across the country."
Reactions in Sierra Leone has been overwhelmingly positive with many Sierra Leoneans commending President Julius Maada Bio "for acting in line with the spirit of the continental agreement by opting for an African (IVM) brand of vehicles for the use of the country's Armed Forces."
Innoson Group has penetrated the vehicles market over the years. It is currently serving as one of the few wholly African car assemblers.
The new development will further help to accelerate intra-African trade under AfCTA.
The Sierra Leonean armed forces have become the first to be using the IVM products outside Nigeria. Four years ago, the Nigerian Army signed a partnership agreement with IVM for the supply of purpose-built vehicles for its personnel.