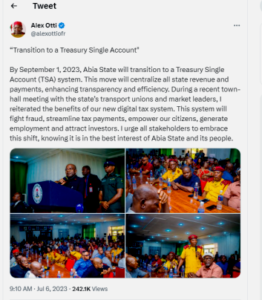 Abia State will transition to a Treasury Single Account (TSA) system by September 1, 2023, Governor Alex Otti has announced on Thursday in Umuahia, the state capital city.
The transition reinforced its impending shift towards a digital tax system.
According to the governor, this will centralize all state revenue and payments, enhancing transparency and efficiency.
"During a recent town-hall meeting with the state's transport unions and market leaders, I reiterated the benefits of our new digital tax system.
"This system will fight fraud, streamline tax payments, empower our citizens, generate employment and attract investors. I urge all stakeholders to embrace this shift, knowing it is in the best interest of Abia State and its people."
The TSA is already being used at federal level by the federal government to unify all government transactions by ministries, departments and agencies (MDAs).
The TSA offers a unified structure for all government bank accounts enabling it to consolidate and optimize cash resources in a way that considerably improves and brings transparency to public financial management lacking heavily in Abia and many other states.
Also, the governor stressed that the TSA will streamline tax payments, reduce tax evasion, and lead to an increase in state revenue allowing government to have capacity to create employment and other opportunities for citizens.
Abia is on the path of modernizing its tax and financial systems to improve governance and accountability, said Otti.